Daily Current Affairs 10 June 2018 for Banking/Insurance/SSC and other related exams.
NATIONAL NEWS
Summit adopts declaration calling for 3-year plan to combat terrorism
The 18th Summit of the Shanghai Cooperation Organization (SCO) held from 9-10 June 2018 in Qingdao, China concluded with the adoption of the Qingdao declaration.
The declaration calls for implementing the three-year plan to combat terrorism, separatism and extremism. It also calls for implementation of the treaty on long-term good neighbourliness, friendship and co-operation.
The leaders adopted a total of 17 documents at the summit, which particularly include documents endorsing the 2018-2022 Action Plan to implement the Treaty for Long-term Good-Neighborly Relations, Friendship and Cooperation between the SCO states and the 2019-2020 Program for Cooperation in countering terrorism, separatism and extremism.
The leaders also signed a decision to approve the 2018-2023 Anti-Drug Strategy and an Action Plan to implement it. Besides, leaders of all the SCO countries also signed an information statement.
India to Soon Have its First Indigenous Lithium Ion Battery Project
Central Electro Chemical Research Institute (CECRI), Karaikudi, Tamil Nadu under Council of Scientific & Industrial Research (CSIR) and RAASI Solar Power Pvt Ltd have signed a Memorandum of Agreement for transfer of technology for India's first Lithium Ion (Li-ion) Battery project. 
Currently, Indian manufacturers source Lithium Ion Battery from China, Japan and South Korea among some other countries. India is one of the largest importers and in 2017, it imported nearly 150 Million US Dollar worth Li-Ion batteries.
According to the Ministry of Science and Technology, the indigenous technology of Lithium-ion cells has been developed by a group of CSIR-CECRI headed by Dr Gopu Kumar in partnership with CSIR-National Physical Laboratory (CSIR-NPL) New Delhi, CSIR- Central Glass and Ceramic Research Institute (CSIR-CGCRI) Kolkata and Indian Institute of Chemical Technology (CSIR-IICT) Hyderabad.
Li-Ion batteries have applications in Energy Storage System. They can power any electrical application without the need of physical wires
Vadsar landfill site turns into tree museum
In a unique initiative, the Vadodara Municipal corporation (VMC) has converted a garbage dumping ground located at Vadsar on the outskirts of the city into a museum of trees.
This place has been named as 'Urban forest – museum of trees'.
Till the launch of the project in October 2016, garbage used to be dumped at that site. But the VMC decided to stop dumping garbage there and planted saplings of nearly 100 varieties.
The land fill site on the banks of Viswamitri river has 100 different species of trees and includes most found in the state.
Varanasi airport to get facial recognition security system under DigiYatra scheme
The Lal Bahadur Shastri International Airport in Varanasi will soon become India's first airport to have an automated smart facial recognition system, ensuring hassle-free movement of travellers from entry to boarding points.
The system has been developed under Prime Minister Narendra Modi's ambitious DigiYatra scheme.
Varanasi is among three airports – the others being Visakhapatnam and Kolkata – selected under the programme for availing of this facility.
Automated walkthrough security scanners equipped with facial recognition technology are being installed at the airport's entry, security and boarding points.
Odisha signs MoU with PGBF for establishment of Badminton Academy
Odisha government has signed an MoU with Hyderabad-based Pullela Gopichand Badminton Foundation (PGBF) for the establishment of P Gopichand Badminton Academy in Odisha.
The memorandum of understanding was signed between the Sports and Youth Services Department, Government of Odisha and Pullela Gopichand Badminton Foundation.
The state government will provide all financial support for the proposed badminton academy while the PGBF will give technical support, including coaching and physiotherapy services for the players.
CM Pema Khandu Launches Arunachal Rising Campaign
Chief Minister Pema Khandu launched the Arunachal Rising Campaign in the state during the inaugural session of the 2-day annual workshop on Annual Development Agenda 2018-19.
The campaign was launched with the objective to reach out to the people throughout the state targeting remote areas and make them aware of the government initiatives, policies and programmes.
Himachal Pradesh Receives Rs 84.13 crore Financial Assistance under NDRF
The Himachal government led by Chief Minister Jai Ram Thakur has received a financial assistance of Rs 84.13 crore from the Ministry of Home Affairs and the Ministry of Finance under the National Disaster Response Fund (NDRF).
The quantum of assistance to the state was felt based on the constant rainfall, cloudbursts and landslides leading to severe losses to life, property and crops during the monsoon season in 2017.
---
---
BANKING
YES BANK Launches GREEN FUTURE: DEPOSIT, India's First Ever Green Deposit Product
Yes Bank, India's fourth largest private lender, has launched the first-ever green deposit scheme named Green Future: Deposit.
The Bank has set the target to raise up to Rs. 1,000 crore via this novel product offering.
It can be opened for a tenure of 18 months and 8 days to 18 months and 18 days, with best-in-class peak interest rate of 7.50% p.a. for regular Green Future: Deposits and 8.00%* p.a. for Senior Citizens.
The Bank will earmark equivalent proceeds raised through Green Future: Deposit towards Sustainable Development Goals (SDGs) aligned sectors and for every Green Future: Deposit opened, YES BANK will contribute a Money Plant.
The Green Future: Deposit can only be opened through YES BANK Net Banking and YES Mobile banking application, making the process entirely paperless, thereby helping create a sustainable future.
---
---
AWARDS
Kamila Shamsie's "Home Fire" wins 2018 Women's Prize for Fiction
Renowned British Pakistani author Kamila Shamsie has won the Women's Prize for Fiction, 2018 for her seventh novel titled "Home Fire".
Ms. Shamsie was awarded the €30,000 pound ($40,000) prize at a ceremony in London.
---
---
SCIENCE
Indian Scientists Discover New Planet 600 Light Years Away
In an epic Indian discovery, a team from the Physical Research Laboratory, Ahmedabad led by Abhijit Chakraborty, has spotted for the first time a distant planet six times bigger than Earth and revolving around a Sun-like star about 600 light years away.
Both the planet and the star have been named EPIC.
As per PLR's parent Indian Space Research Organisation, the discovery was made using a PRL-designed spectrograph, PARAS, to measure and confirm the mass of the new planet.
EPIC 211945201b (or K2-236b) is the name given to the planet. The host star is named EPIC 211945201 or K2-236.
---
---
APPOINTMENTS
Ex-NIA chief Sharad Kumar appointed Vigilance Commissioner
Former NIA chief Shri Sharad Kumar has been appointed as the Vigilance Commissioner in the Central Vigilance Commission, New Delhi for a term of four years from the date on which he enters upon his office, or till he attains the age of sixty five years, whichever is earlier.
The 62-year-old Kumar, a 1979-batch IPS officer of the Haryana cadre, retired in September last year after heading the National Investigation Agency (NIA), an anti-terror probe organisation, for over four years.
Bandhan Bank appoints H R Khan as chairman
The board of directors of the Bandhan Bank has appointed former Reserve Bank of India's Deputy Governor, Harun Rasid Khan, as the non-executive, part time Chairman of the bank.
Khans appointment will be for a period of three years with effect from June 5, 2018 or till the expiry of his term as an independent director whichever is earlier.
---
---
SPORTS NEWS
Bangladesh beat India to lift maiden Women's Asia Cup T20 title
Bangladesh defeated India in a nail-biting final of Asia Cup T20 2018 cricket tournament at the Kinrara Academy Oval in Kuala Lumpur.
With the win, Bangladesh became the first side to beat India in an Asia Cup final.
Chasing 113, Bangladesh won the match on the last ball when they needed nine runs in the final over, bowled by Indian Captain Harmanpreet Kaur.
India have won six titles since the tournament's inception in 2004, while for Bangladesh, this is their maiden final appearance.
India Wins 17 Medals at Asian Junior Athletics Championships 2018
The 2018 Asian Junior Athletics Championships was the 18th edition of the International athletics competition for Asian under-20 athletes.
The competition took place over four days from 7–10 June at Gifu Nagaragawa Stadium in Gifu, Japan.
India won 5 Gold, two Silver and 10 Bronze to take their medal tally to 17 to gain the third place in the medal table.
Japan scored top position in medal table with 41 medals (14-15-12) followed by Chine 24 (11-8-5).
---
---
DEFENCE
Dhanush, India's first indigenous artillery gun
India's first indigenous, long-range artillery gun "Dhanush" has passed its final test at Pokhran, paving the way for its induction into the Army.
Gun Carriage Factory (GCF) Senior General Manager SK Singh said that, fifty rounds of shells each were fired from six Dhanush guns between June 2-6.
Dhanush is a 155mm x 45mm calibre artillery gun and is also called the "desi Bofors".
The gun has passed tests under severe cold conditions in Sikkim and Leh and in hot and humid weather in Balasore, Odisha, Babina in Jhansi and in the desert of Pokhran in Rajasthan.
---
---
OBITUARIES
Prominent theatre personality Sukracharya Rabha passes away
Noted Assamese theatre personality Sukracharya Rabha, famed for his open air theatre festival, died of cardiac arrest at his village home in Goalpara district. He was 41.
Rabha founded his theatre group 'Badungduppa', a rural-based theatre centre at his village Rampur, in 1998 and had directed several plays in Rabha, Bodo and Nepali languages.
Socialist leader Laxman Patil–Bhosle Passes Away
Senior socialist leader and former vice-chairman of the Nashik District Central Cooperative Bank (NDCC), Laxman Patil–Bhosle alias 'Lakhutatya' died in Malegaon in Nashik district following illness. He was 84.
Patil-Bhosle was the founder chairman of Zilla Mazoor Federation and was closely associated with the Rashtra Seva Dal and Janta Dal.
Pioneering US war photographer David Douglas Duncan Passes Away
Legendary American photojournalist David Douglas Duncan, who was best known for his combat photographs captured during World War II, has died. He was 102.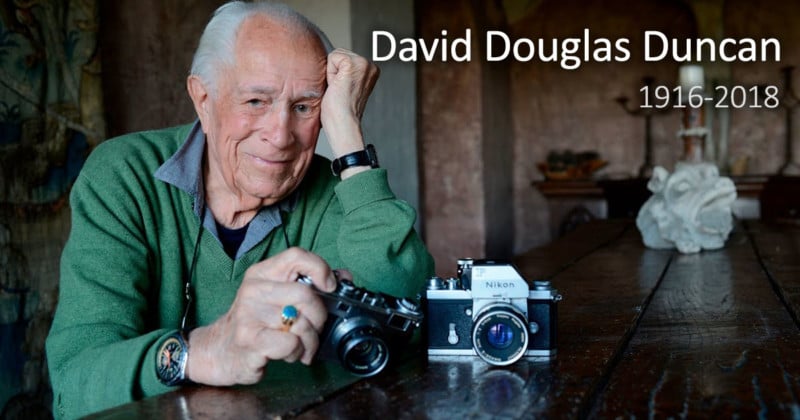 ---
---
Click here to read Current Affairs in English