Daily Current Affairs 13 June 2018 for Banking/Insurance/SSC and other related exams.
NATIONAL NEWS
Odisha's new health scheme to benefit 70 lakh families
Odisha Chief Minister Naveen Patnaik has announced a health assurance scheme named "Biju Swasthya Kalyan Yojana" that will benefit around 3.5 crore people from over 70 lakh families in the state.
Under the Biju Swasthya Kalyan Yojana, secondary and tertiary cashless healthcare assistance will be provided up to Rs 5 lakh per family per annum to meet healthcare expenditure at all government-run hospitals and the entire cost would be borne by the state government.
Besides, an assistance of Rs 500 would be provided to all pregnant women and infant who visit public health facilities.
The scheme will come into effect from August 15 2018.
Cabinet approves MoU between India and Viet Nam on Joint issue of postage stamp 
The Union Cabinet has been apprised of the joint issue of a postage stamp between Department of Posts and Viet Nam Post on the theme "Ancient Architecture".
The commemorative joint issue stamps depicting Sanchi Stupa of India and Pho Minh Pagoda of Vietnam were released on January 25 after the MoU was signed between both postal administrations for this purpose on December 18, 2017.
Cabinet approves reconstitution of North Eastern Council(NEC)
The Union Cabinet chaired by Prime Minister Narendra Modi has approved reconstitution of North Eastern Council (NEC) to bring the Council under the direct control of the Home Ministry.
The council, which is the nodal agency for the economic and social development of the North Eastern region, was till now chaired by the Development Of North Eastern Region (DoNER) Minister.
The reconstituted NEC will have Home Minister as the ex-officio chairperson of the Council. The DoNER Minister will be the Vice Chairman.
The new arrangement would provide a forum for discussing inter-state matters more comprehensively.
Govt added 10 Iconic sites in 3rd phase of its flagship project of Swachh Iconic Places
The government has added 10 more Swachh Iconic Places (SIP) under phase III of its flagship programme, Swachh Bharat Mission taking the total places under the project to 30.
These sites have joined the 20 iconic places selected under Phase I and II where special sanitation work is underway.
The SIP project envisioned by Prime Minister Narendra Modi is being coordinated by the Ministry of Drinking Water and Sanitation with the support of state governments and local administration.
A consultation is in process for finalising the PSUs/corporates for extending support to the new sites as CSR partners.
Cabinet approves proposal for enactment of Dam Safety Bill, 2018 
The Union Cabinet has approved the proposal for introduction of Dam Safety Bill, 2018 in the Parliament.
It will help all the States and Union Territories of India to adopt uniform dam safety procedures which shall ensure safety of dams and safeguard benefits from such dams. This shall also help in safeguarding human life, livestock and property.
Govt Approves Withdrawal of Nalanda University (Amendment) Bill, 2013 
The Union Cabinet has approved a proposal to withdraw the Nalanda University (Amendment) Bill, 2013 pending in the Rajya Sabha.
The bill, introduced in the Parliament on August 26, 2013, had then been referred to the Standing Committee on External Affairs which submitted its report in the same year. However, before the bill could be passed in 2014, the Parliament was prorogued.
The present proposal is for moving a motion in Rajya Sabha withdrawing the Nalanda University (Amendment) Bill, 2013 to amend certain existing provisions of the Nalanda University Act, 2010 and add some new provisions.
The Amendment Bill will need to be discussed with the current Governing Board of Nalanda University before a final decision could be taken.
Further, the current Governing Board may also look into the entire Nalanda University Act, 2010 afresh and suggest amendments/additions wherever necessary.
Centre's nod for two women battalions of J&K Police
The Central government has  given nod to raise two women battalions in the Jammu and Kashmir Police to enhance the representation of women in the State Police.
One Battalion each would be raised in the Jammu region and Kashmir region respectively. Besides, 60 percent of the posts would be kept reserved for women of 10 border districts– Jammu, Samba, Kathua, Poonch, Rajouri, Baramulla, Bandipora, Kupwara, Kargil and Leh.
This will provide direct employment to over 2,000 deserving women in Jammu and Kashmir.
Cabinet approves Agreement between India and Peru 
The Union Cabinet has approved an Agreement between India and Peru for bilateral cooperation between the two countries on new and renewable issues.
The agreement aims to establish the basis for a cooperative institutional relationship to encourage and promote technical bilateral cooperation on new and renewable issues on the basis of mutual benefit equality and reciprocity.
The MoU which was signed in May, 2018 at Lima, Peru envisages establishing a Joint Committee to develop Work Plans in order to implement the Agreement.
Cabinet Approves Continuation of Agriculture Education Development Plan
The Cabinet Committee on Economic Affairs has approved continuation of the Three Year Action Plan (2017-2020) of the scheme for Agricultural Education Division and ICAR Institutes to strengthen and develop higher agricultural education in the country.
The total outlay for the scheme is Rs 2,225.46 crore including the states' share of Rs 27.95 crore.
The scheme is aimed to generate quality human resources from the institutions of higher agricultural education.
Cabinet Approves Proposal for Leasing Pragati Maidan Land for Construction of Hotel
The Union Cabinet has approved a proposal for leasing out 3.7 acres of land at Pragati Maidan to a private player for construction of a hotel.
The funds raised through the process would be utilised by the India Trade Promotion Organisation (ITPO) to finance the Integrated Exhibition-cum-Convention Centre (IECC) project at Pragati Maidan.
ITPO is a body under the commerce ministry which runs the exhibition centre at Pragati Maidan.
The land would be monetised on long-term leasehold basis for 99 years for construction and running of a hotel by a third party.
Integrated Exhibition-cum-Convention Centre (IECC) project
IECC project was approved by the CCEA in January 2017 at an estimated cost of Rs. 2254 crore. IECC project envisages construction of a world class state-of-the-art Exhibition-cum-Convention Centre with a seating capacity for 7,000 persons, exhibition, space of over 1,00,000sq.mtr. and a basement parking for 4,800 vehicles.
Cabinet approves extension of tenure for panel examining sub-categorization within OBCs
The Union Cabinet has extended the tenure of the Commission constituted to examine sub-categorization within Other Backward Classes (OBCs) in the Central list.
It has been extended till July 31, 2018. The tenure of the panel was ending on June 20.
Cabinet approves MoU between the ICMR and INSERM, France 
The Cabinet has been apprised of a Memorandum of Understanding (MoU) which was signed in March, 2018 between the Indian Council of Medical Research (ICMR) and the Institut National de la Santeet de la RechercheMedicale (INSERM), France for cooperation in areas of medical, life sciences and health research fields.
The MoU will further strengthen relations between ICMR and INSERM within the framework of international scientific and technological cooperation in fields of mutual interest.
Govt Approves Revision of Carpet Area of Houses Eligible for Interest Subsidy under PMAY (Urban)
The government has approved a 33 percent increase in carpet area of houses eligible for interest subsidy under its affordable housing scheme Pradhan Mantri Awas Yojana (Urban) to attract more beneficiaries.
The carpet area of a house has been enhanced to 160 square metres from 120 square metres for Middle Income Group-1, while it has been increased to 200 square metres from 150 square metres in case of Middle Income Group-2.
The new rules will be effective from 1st of January, 2017, the date on which the scheme became operational.
The enhancements will now enable more Middle Income Group customers to qualify for subsidy and avail the benefits provided under the flagship mission of Pradhan Mantri Awas Yojana-Urban.
Niti Aayog to launch Composite Water Management Index
NITI Aayog has come up with the Composite Water Management Index to overcome limitations on availability of water resources and the rising demand for water.
The index is a useful tool to assess and improve performance in management of water resources by providing useful information which can be utilized to formulate and implement strategies for better management of water resources.
It is an attempt to inspire States and Union Territories towards efficient and optimal utilization of water followed by recycling.
Maharashtra Inks MoU with Canada's Quebec Province for Greater Economic Cooperation
The Maharashtra government and Canada's Quebec province have signed a pact to increase the economic cooperation, specially in areas of information technology, biotechnology, artificial intelligence and welfare of the tribal community. 
The Memorandum of Understanding (MoU) to this effect with was signed by Chief Minister Devendra Fadnavis and Quebec Premier Philippe Couillard  during his week-long tour to the US and Canada.
KSLMA initiates 'Water Literacy' campaign to create awareness about importance of water
Kerala State Literacy Mission Authority (KSLMA) has initiated a 'water literacy' campaign with the involvement of 70,000 students aiming to create awareness about the importance of water conservation in the State.
As per the campaign, every student will take classes about water conservation for 15 families in their locality.
Around 10 lakh people will be benefited from the campaign scheduled to be held from June 20 to September 20.
State Education Minister Prof C Raveendranath released a special course book containing 16 chapters designed for the purpose. The campaign aims at improvising the knowledge of students as also people regarding importance of water, prevention of water pollution, water conservation and laws related to water management.
Raksha Mantri Inaugurates BEL representative office in Vietnam 
Raksha Mantri, Smt Nirmala Sitharaman inaugurated the first Representative Office of Navratna Defence PSU Bharat Electronics Limited (BEL) in Hanoi, Vietnam.
Smt Sitharaman handed over the symbolic key of the Representative Office of BEL at Vietnam (VIRO) to Chairman & Managing Director, BEL Shri Gowtama MV during the Vietnam-India Defence Industry Business Meeting.
---
---
BANKING NEWS
Yes Bank's Shareholders Re-Appoint Rana Kapoor As MD And CEO
Private sector lender YES Bank has re-appointed Rana Kapoor as MD & CEO of the bank for a period of three years. The decision was taken at the 14th annual general geeting of the shareholders of the bank.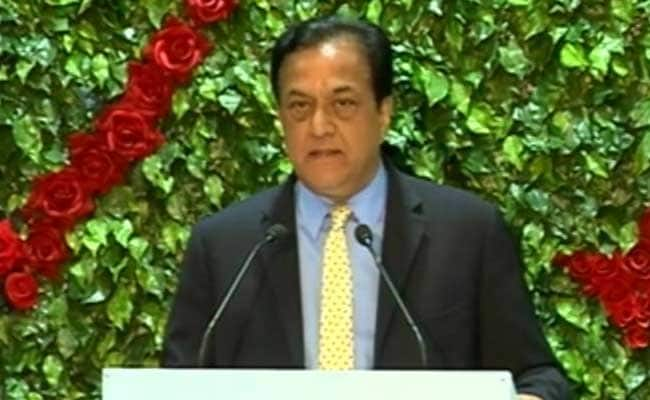 The re-appointment will be effective for a period of three years from September 1, 2018 subject to final approval by the Reserve Bank of India (RBI).
Cabinet approves HDFC Bank's proposal to raise additional share capital of Rs 24,000 crore
The Union Cabinet on has approved a Rs 24,000 crore foreign direct investment (FDI) as additional share capital into private sector HDFC Bank.
Even with this infusion, the FDI foreign equity will remain capped below 74 per cent. The current foreign equity holding is 72.62 percent.
The proposed investment is expected to strengthen the capital adequacy ratio of the bank.
---
---
AWARDS
Sulabh founder honoured with Japan's Nikkei Asia Prize
Noted social reformer and founder of Sulabh International, Bindeshwar Pathak, has been honoured with Japan's prestigious 'Nikkei Asia Prize for Culture and Community' for his significant work in tackling poor hygiene and discrimination.
Launched in 1996, the award honours people in Asia who have made significant contributions in one of the three areas: regional growth; science, technology and innovation; and culture and community.
Former Prime Minister Manmohan Singh and Infosys Chairman Narayan Murthy are among the few Indians who have won the prize in the past.
The Nikkei Asia Prizes were created in 1996 to commemorate the 120th anniversary of Nikkei Inc's main Japanese-language newspaper.
---
---
SPORTS NEWS
FIFA World Cup 2018 to be held in Russia 14th June to 15th July
The 21st edition of the FIFA World Cup will be held in Russia from June 14 to July 15.
Hosts Russia will take on Saudi Arabia in the opening match on June 14. Russia and Saudi Arabia are placed in Group-A. The game will take place in the Luzhniki Stadium in Moscow.
---
---
Click here to read Current Affairs in English