Daily Current Affairs 20 May 2018 for Banking/Insurance/SSC and other related exams.
NATIONAL NEWS
PM Modi inaugurates 330-MW Kishenganga hydel power project in Srinagar
Prime Minister Narendra Modi inaugurated the 330-MW Kishenganga hydel power project in Srinagar.
The project has been built by the National Hydroelectric Power Corporation in north Kashmir's Bandipora district. It has been constructed at a cost of 5200 crore rupees.
He also laid the foundation stone of 1000 MW Pakal Dul hydroelectric project in Kishtwar district which will be the largest Hydro Power Project in Jammu and Kashmir after it is constructed.
Railways to use AI to control air circulation in Manipur tunnel
For the first time, the railways will use artificial intelligence (AI) to control air circulation, signages and even supervision and maintenance work in the 10.28 km-long tunnel in Imphal as part of its 110 km railway line from Jiribam to Manipur's capital city.
While the national transporter is already using this technique to detect flaws or problems in the signalling system on a real-time basis and rectifying it in order to avoid possible delays and mishaps, this is the first time that such a technology will be used in a tunnel in the country.
The system will control air circulation in the system, along with other aspects. It will alert the passenger in case of fire and help us in quick evacuation in case of an issue.
BJP President Amit Shah to attend 3rd conclave of NEDA in Guwahati
BJP National President Amit Shah is in Guwahati to attend the third conclave of the North East Democratic Alliance (NEDA).
Several Chief Ministers of North East will also take part in the conclave. Mr. Shah is likely to set the agenda for the BJP and NDA in North East in the run-up to the Lok Sabha elections.
Photo museum in Bhubaneswar dedicated to Biju Patnaik
Photo journalist Aneel Prasad Mishra has established a museum in Bhubaneswar (Odisha) that will exhibit 288 pictures of former chief minister of Odisha Biju Patnaik as a mark of tribute.
The move by Mishra, who has worked with the former CM from 1980-97, is an attempt to honour him by dedicating him a photo museum.
Through this photo gallery people will be able to see the day-to-day life and work of Biju babu
NITI Aayog's 3-Day Venture Capital Symposium 2018 Begins
NITI Aayog, in association with Vision India Foundation, is organising the Venture Capital Symposium 2018 to deepen the economic relationships between France and India. 
The Venture Capital Symposium 2018 is a three day event where the French investors will be interacting with 100 early to mid-stage Indian start-ups.
Smt Smriti Irani Chairs Meeting of Stakeholders on 'Samarth'- Scheme for Capacity Building in Textile Sector
A meeting of stakeholders on Samarth – Scheme for Capacity Building in Textile Sector under the Skill India Mission was held in New Delhi to familiarize the stakeholders about the scheme and its guidelines. The meeting was chaired by Union Minister of Textiles, Smt Smriti Zubin Irani.
The broad objective of the new scheme is to skill the youth for gainful and sustainable employment in the textile sector covering the entire value chain of textiles, excluding spinning and weaving.
Government to link 200 more mandis to eNAM this fiscal: Agriculture secretary
The government will link additional 200 wholesale mandis to the online trading platform eNAM this financial year and also encourage inter-mandi transactions.
At present, 585 regulated mandis in 14 states are linked with the electronic National Agriculture Market (eNAM) launched in April 2016.
Though the target is to connect 200 more mandis to the eNAM platform this year, but the priority would be given to improve the quality and encourage inter-mandi online trading.
---
---
 INTERNATIONAL NEWS
Russia unveils world's first floating nuclear power station
Russia has unveiled world's first floating nuclear power station at a ceremony in the port of the far northern city of Murmansk, where it will be loaded with nuclear fuel before heading to eastern Siberia.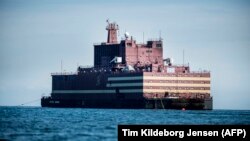 Called the Academik Lomonosov, the two-reactor 70-megawatt floating power plant has been built in Saint Petersburg and took 11 years in the making. Russia started work on it way back in 2007 at a cost of $232 million. The plant is owned by the state-run nuclear energy corporation Rosatom.
---
---
BANKING/FINANCE 
RBI slaps fine on South Indian Bank
The Reserve Bank of India (RBI) has imposed a penalty of ₹5 crore on South Indian Bank (SIB) for non-compliance with its directions on Income Recognition and Asset Classification (IRAC) norms, Know Your Customer (KYC) norms and treasury function.
The central bank, in a statement, said the penalty has also been imposed on the Thrissur-headquartered private sector bank for deficiencies in its compliance function and compliance culture.
NABARD Sanctions Solar street lighting system in Arunachal Pradesh
The National Bank for Agriculture and Rural Development (NABARD) has sanctioned LED Solar Street Lighting system for Arunachal Pradesh under its Rural Infrastructure Development Fund with a total grant of Rs 87.83 lakh.
The project would be implemented in the four districts of the state Tirap, Longding, Namsai and Tawang.
---
---
 AWARDS/RECOGNITIONS
West Bengal Government to honour Asha Bhosle
Veteran singer Asha Bhosle will be honoured with the highest civilian award by the West Bengal government on May 21 in Kolkata. Asha Bhosle has been a part of the Hindi film industry for over six decade.
Amitabh awarded for being bridge builder between India, Europe
Megastar Amitabh Bachchan has been honoured by European Union for strengthening Europe-India cultural ties.
Tomasz Kozlowski, the European Union Ambassador to India, bestowed the prestigious award on him from the European Union for being a bridge builder between India and Europe.
India's Jagriti Yatra Wins Charity Award in UK
An Indian charity named Jagriti Yatra, that organises 15-day train journeys around India to understand and build the India of smaller towns and villages through enterprise has won an award in London.
 It was among a series of worldwide charities and individuals recognised for their impact within their communities at the Asian Voice Charity Awards, powered by due diligence platform Charity Clarity.
Dr Harsh Vardhan's 'Green Good Deeds' Gets Global Recognition
Green Good Deeds, the societal movement launched by the Union Minister for Environment, Forest & Climate Change, Dr Harsh Vardhan, to protect environment and promote good living in the country, has found acceptance by the global community.
The BRICS Ministerial on Environment being held at Durban, South Africa, has agreed to include "Green Good Deeds" in its official agenda in the next Ministerial in Brazil and another meeting in Russia. "Green Good Deeds" is an idea to take it to the people and get them involved," the Minister added.
Indian Government is working to develop a societal movement of Green Good Deeds, which are small positive actions to be performed by individuals or organisations to strengthen the cause of environmental protection.
---
---
 APPOINTMENTS/RESIGNATIONS
Rajinder Singh Named Hockey India President
Rajinder Singh has been named the new President of Hockey India (HI), following Mariamma Koshy's resignation from the post.
Singh, who is the Senior Vice President of HI was earlier the Treasurer of HI and currently serves as the Treasurer of Hockey Jammu & Kashmir.
BS Yeddyurappa Quits As Karnataka Chief Minister Before Floor Test
BJP leader BS Yeddyurappa resigned as Karnataka chief minister less than 48 hours after he took oath as chief minister failing to prove parties majority in the Karnataka Assembly.
Bharatiya Janata Party (BJP) didn't get the numbers needed to prove majority in the House, who got 104 seats required simple majority of 112 to form government in Karnataka.
Yeddyurappa's resignation paves the way for formation of a government led by JD(S) state Chief H.D. Kumaraswamy, who has the backing of the Congress.
The Congress and the JD(S) made a post-poll alliance and approached Karnataka governor Vajubhai Vala to form the government. The Congress won 78 seats and Janata Dal (Secular) 38 (including one from the Bahujan Samaj Party.
Gina Haspel Confirmed As 1st Female Director of CIA
Gina Haspel has been confirmed as the next Central Intelligence Agency (CIA) director, making her the first woman to lead the intelligence agency.
Ms Haspel is a 33-year veteran at the agency currently serving as its acting director.
Gujarat Governor to hold additional charge of MP
Gujarat Governor Om Prakash Kohli ohas been given the additional charge of Madhya Pradesh as the incumbent Governor, Anandiben Patel is on leave.
Anandiben, became the Governor of Madhya Pradesh in January 2018, replacing Kohli, who even at that time held the same position.
Kohli held the additional charge of the office of Governor of Madhya Pradesh from 8 September 2016 to 19 January 2018.
Sr lawyer Mukul Rohatgi appointed as eminent jurist in Lokpal panel: Govt
Former Attorney General Mukul Rohatgi has been appointed as an eminent jurist in the selection committee for appointment of the Lokpal.
Rohatgi was appointed as the 14th Attorney General of India after the Narendra Modi government assumed power in May 2014. He resigned from the post in June 2017.
---
---
 OBITUARIES
Lavani singer Yamunabai Waikar passes away
Acclaimed Lavani singer and Padma Shri recipient Yamunabai Waikar passed away after a brief illness at the age of 103. In 2012, she was honoured with a Padma Shri.
Muzaffarnagar's last freedom fighter passes away at 95
The lone freedom fighter of Muzaffarnagar district, Raghuvir Singh, passed away after brief illness in Noida. He was 95.
Singh was part of Subhas Chandra Bose's Azad Hind Fauj, they said.
---
---