Daily Current Affairs 22 June 2018 for Banking/Insurance/SSC and other related exams.
NATIONAL NEWS
World's 1st International Centre for Humanitarian Forensics Launched in Gujarat
The World's first International Centre for Humanitarian Forensics (ICHF) has been inaugurated in Gujarat, India on 20 June 2018.
It is a joint initiative of the Gujarat Forensic Sciences University (GFSU) in collaboration with the International Committee of the Red Cross (ICRC) Regional Delegation for India, Bhutan, Nepal and the Maldives.
ICHF is envisioned to be the one-stop centre of excellence in Asia to conduct various academic and professional programmes, training, research and provide technical expertise to support operations (together with authorities and agencies concerned) in the field of humanitarian forensics.
Surat Bags 'City Award' Under India Smart Cities Award 2018
Surat has been honored with the "City Award" under 'India Smart Cities Award' 2018.
The award has been given to Surat for showcasing "great momentum" in the implementation of projects under the Smart Cities Mission especially in the categories of urban environment, transport and mobility and sustainable integrated development.
The India Smart Cities Awards were announced in 3 categories with total 9 awards. The categories includes: City Award, Innovative Idea Award and Project Award.
 Bhopal and Ahmedabad were jointly selected in the Innovative Idea' category for Integrated Command and Control Centre (ICCC) and Safe and Secure Ahmedabad (SASA) Project respectively.
The Project' awards were given in seven categories namely:
Social Aspects' category – NDMC, Jabalpur (Madhya Pradesh), Visakhapatnam, Pune
Urban environment category – Bhopal, Pune and Coimbatore and Jabalpur
Culture and Economy category – Bhopal and Jaipur
Transport and Mobility category – Ahmedabad and Surat
Water and Sanitation category – Ahmedabad
Governance category – Pune
Built Environment category – Pune
India Smart Cities Award were launched on 25 June 2017 with an objective to reward cities, projects and innovative ideas, promoting sustainable development in cities.
Free meal on Sunday in case of train delay
The Indian Railways has come up with a new initiative to provide free meals and refreshments to the passengers travelling on reserved tickets if trains get delayed on a Sunday by five-six hours due to planned maintenance works on tracks.
The food and refreshments would be provided by Indian Rail Catering and Tourism Corp (IRCTC).
Besides, railways are also considering free meals to passengers travelling on unreserved tickets.
The new timetable is likely to be out on August 15 that will inform passengers about the likely delay in schedule of trains due to planned maintenance work on the tracks.
Telangana to set up Special Turmeric Cell
The Telangana government has decided to set up a Special Turmeric Cell in the Nizamabad district of the state which would enable the farmers in bringing qualitative changes for cultivating turmeric as a commercial crop.
The Telangana government agencies in association with Special Turmeric Cell and the Spice Board Development Agency in Warangal can help in improving the production, quality, marketing and export of turmeric.
The state government decided on this initiative as the central government turned down its request for setting up a national turmeric board on the lines of Coffee Board or Rubber Board.
Prime Minister Modi lays foundation stone of new Vanijya Bhawan
Prime Minister Narendra Modi has laid the foundation stone of Vanijya Bhawan at Delhi's Akbar road.
Upon completion, the new building will house the Department of Commerce which is currently housed in Udyog Bhawan which also houses a large number of other Government of India departments leading to constraint of space.
The construction of Vanijya Bhawan will be completed before December 2019.
The new, green and modern Vanijya Bhawan is being set up at a cost of Rs 226 crore on a plot of 4.33 acres, belonging to Directorate General of Supplies and Disposals (DGS&D).
India to construct war memorial in France
India will construct an Indian Armed Forces Memorial at Villers Guislain, a town around 200 km from Paris.
The memorial will highlight the contribution of the soldiers of the undivided India to the freedom of France in the World War I.
This will be the second such memorial in Europe.
During the World War I, Villers-Guislain had witnessed a fierce battle in which the British Indian cavalry regiments were heavily involved. The town was liberated on September 29, 2018.
Gujarat Unveils Wind-Solar Hybrid Power Policy
The state government of Gujarat has announced a policy 'Wind-Solar Hybrid Power Policy-2018' to promote setting up of wind as well as solar power projects at one location to ensure optimal use of land and transmission infrastructure.
The policy will remain in force for five years.
Projects approved under this policy can avail various benefits and rebates as mentioned in the policy document for a period of 25 years or till the life of the project
Under the policy, developers can set up wind energy units on the land currently in use for solar power units.
Similarly, a solar power project can be set up on the land being used for wind farms.
KVIC adopts Jagatpur village in Delhi for Swachhata Abhiyaan 
The Khadi and Village Industries Commission (KVIC), under the MSME Ministry, has adopted Jagatpur village in Delhi for its Swachhata Abhiyaan.
The sanitation drive by KVIC began with a plantation drive and ended with cleanliness drive along the bank of the Yamuna river.
KVIC is also installing 20 park benches on the bank on Yamuna river. Under KVIC's Swachhata Mission, the next cleanliness drive will bein Mumbai's Juhu Beach.
Haryana to give kids ₹50 for planting trees
The Haryana government has decided to introduce a scheme under which an incentive of Rs 50 will be given to school children for planting trees.
Under the new scheme, students from Classes 6 to 12 of both government and private schools will be given an incentive of Rs 50 each for every live tree planted by them every six months for a period of three years.
The students will also be provided with books about environment conservation.
The drive will be launched by the school education department on July 10
India aims 5 GW offshore wind plants by 2022; 30 GW by 2030
The Ministry of New & Renewable Energy has announced its new medium and long term target for off-shore wind power capacity additions, which are 5 GW by 2022 and 30 GW by 2030.
Offshore wind power would add a new element to the already existing basket of renewable energy for the country.
Globally, UK tops the list of offshore wind markets, followed by Germany, Taiwan, China and the USA.
Visva-Bharati University setting up 'Yoga Gram' with central grant
The Central Government has sanctioned a grant of Rs 5 crore to Visva-Bharati University for setting up a 'Yoga Gram' in the university campus.
Small 'yoga' themed cottages surrounded by fruit plants and having tiled or straw roofs would be built in the 'Yoga Gram'.
It would present people an environment of undiluted, purest form of yoga dating back to the ancient times.
Work for the first phase of the project has started on 15 acres of land in the compound of the 'Vinay Bhavan', the Institute of Education of the central university.
There will also be books and audiovisual aids on 2000-year-old yoga culture.
SAIL Steel for World's Tallest Girder Rail Bridge
The Steel Authority of India Ltd (SAIL) has supplied around 60,000 tonnes of steel material for the construction of  111-km-long Jiribam-Tupul-Imphal new broad gauge railway project in Manipur.
The project was taken up in 2008 and was declared a National Project.
The project is being developed in two sections. The first section involves the construction of 84 kms of railway line connecting Jiribam to Tupul while the second section of 27 kms connecting Tupul to Imphal is expected to be completed by 2019. Northeast Frontier Railway (NFR) is undertaking the construction of the project.
In addition to this, a bridge is being constructed near Noney which will become the tallest girder rail bridge in the world. At 141 metres, the bridge over river Iring  will be as high as two Qutub Minar's stacked on top of each other.
PM Modi to inaugurate 3rd AIIB meeting in Mumbai
The 3rd Annual Meeting of the Asian Infrastructure Investment Bank (AIIB) will be inaugurated by Prime Minister Narendra Modi on June 25-26 in Mumbai.
The previous two AIIB annual meetings have been held in Beijing, China, in 2016 and in Jeju, South Korea, in 2017.
The theme for this year's meeting is "Mobilising Finance for Infrastructure: Innovation and Collaboration".
Industries Department, Government of Maharashtra is the nodal Department, Maharashtra Industrial Development Corporation (MIDC), Government of Maharashtra is the nodal agency, Confedartion of Indian Industry (CII) is the Professional Conference Organiser (PCO), Research and Information Systems for Developing Countries (RIS) is the knowledge partner, for the 3rd Annual Meeting of AIIB.
---
---
BANKING
18,000 bank branches & post offices have enrolled to Aadhaar facility : UIDAI
As many as 18,000 centres have so far enrolled to set up Aadhaar facility on their premises for updation of the biometric ID at such locations ever since the Unique Identification Authority of India (UIDAI) had directed in July 2017 all private as well as public sector banks to set up Aadhaar facility in at least one out of 10 branches.
About 10,000 branches of private and public sector banks have set up Aadhaar enrolment and updation centres on their premises, compared to over 13,800 branches that need to do so.
About 8,000 such centres have come up in post offices out of 13,000 that are targeted.
Overall, about 26,000 centres are slated to come up at banks and post offices.
The 'Bank Aadhaar Kendras' are being set up with a view to making the Aadhaar verification process of bank accounts convenient for people and to ensure that the enrolment takes place in a secure and supervised environment.
---
SBI's B Sriram appointed CMD of IDBI Bank
State Bank of India's (SBI) Managing Director B Sriram has been appointed as the IDBI Bank's CEO and Managing Director for a temporary period of three months.
He has been appointed in place of incumbent Mahesh Kumar Jain who was recently named Deputy Governor of the Reserve Bank of India (RBI).
---
---
SPORTS NEWS
ICC World Test Championship: India to play West Indies in July 2019
The Indian cricket team will make its debut in the inaugural ICC World Test Championship by playing against West Indies in the Caribbean in July 2019.
It is a part of Future Tours Programme (FTP) announced by International Cricket Council (ICC) for a five-year period (2018-2023) which includes the World Test Championship and a 13-team ODI league.
As per the ICC, the nine top-ranked Test teams will participate in the inaugural edition of the World Test Championship, which will run from July 15, 2019 to April 30, 2021.
The ODI League will serve as a qualification pathway for the 2023 World Cup to be hosted by India.
India will mark its campaign in the 13-team ODI League versus Sri Lanka (away) in June 2020.
Srikanth Adjudged Sportsperson of the Year 2018
Ace Indian shuttler and Commonwealth Games 2018 gold-medalist Kidambi Srikanth, has been adjudged as the Sportsperson of the Year for 2018 by the Sports Illustrated India magazine.
The eighth annual Sportsperson of the Year awards took place at the Roseate House, Aerocity in New Delhi.
List of Winners
Team of the Year: Women's Cricket Team
Coach of the Year: Stephen Constantine
Editor's Choice for Excellence (Team): Aizawl FC
Editor's Choice for Excellence (Male): Jitu Rai
Young Sportsperson of the Year: Manav Vikas Thakkar
Community Development in Sport: Sailen Tudu
Comeback of the Year: Sushil Kumar
Gamechanger of the Year: Shubhankar Sharma
Outstanding Contribution to Sport: Leander Paes
Lifetime Achievement Award: Dhanraj Pillay
Special Award Living Legend: Balbir Singh Sr.
Sportsperson Of The Year: Kidambi Srikanth
---
---
OBITUARIES
"Thinking Man's Golfer": Australian Great Peter Thomson Dies At 88
Professional Australian golfer Peter Thomson, who won the British Open five times, died after a long battle with Parkinson's disease. He was 88.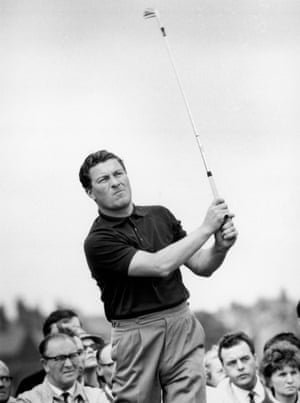 Thomson was the first Australian to win the British Open on five occasions between 1954 and 1965.
Columnist Charles Krauthammer dies at 68
Charles Krauthammer, the prominent Pulitzer Prize-winning conservative columnist for the Washington Post and commentator for the Fox News Channel, has died. He was 68.
Charles weekly column was syndicated to more than 400 publications worldwide.
Veteran Pak diplomat Jamsheed Marker passes away
Veteran Pakistani diplomat and "the world's longest serving ambassador" Jamsheed Marker passed away in Karachi at the age of 95.
The veteran diplomat was listed in the Guinness Book of Records as having been "ambassador to more countries than any other person" and also for being "the world's longest serving ambassador".
The Hilal-e-Imtiaz recipient was also an accomplished cricket commentator and was fluent in English, Urdu, Gujarati, French, German and Russian.
---
---
Click here to read Current Affairs in English