Daily Current Affairs 24 June 2018 for Banking/Insurance/SSC and other related exams.
NATIONAL NEWS
PM inaugurates Bahadurgarh-Mundka Metro Line via video conference 
Prime Minister, Narendra Modi inaugurated the 11-km elevated Bahadurgarh-Mundka Metro Line build at a cost of Rs 2,028-crore via video conference on June 24, 2018.
Bhadurgarh, also known as the Gateway of Haryana, is the third place in Haryana, after Gurugram and Faridabad to be connected to Delhi via metro line.
Bahadurgarh have several educational centres and many students from there even travel to Delhi so the Metro will make travelling much more convenient.
PM inaugurates urban development projects, gives away Swachh Survekshan Awards in Indore 
Prime Minister Narendra Modi was on a day long visit to Madhya Pradesh where he inaugurated several urban development projects at various locations across the State worth over Rs 4700 crore.
These include houses under Pradhan Mantri Awaas Yojana, urban drinking water supply schemes, urban solid waste management, urban sanitation, urban transportation and urban landscape projects.
He also distributed the Swachh Survekshan-2018 Awards, and launched the Swachh Survekshan-2018 results dashboard.
Indore emerged as India's cleanest city as per the recently released Swachh Sarvekshan 2018 report, followed by Bhopal and Chandigarh respectively.
'Sutra Seva: MP Ki Apni Bus'
Modi also inaugurated the state government's urban transport scheme named 'Sutra Seva'.
Initially this economical bus service-'Sutra Seva: MP Ki Apni Bus'- is being introduced in 20 selected cities of the state.
The ambitious Urban Transport Scheme will connect divisional headquarters and remote areas to Bhopal.
MP Ki Apni Bus – Sutra Sewa Scheme will operate with the assistance from the local bodies, state govt. and central government (AMRUT Yojana) in private partnership mode.
HM Rajnath Singh lays foundation stone for Mongolian Refinery
Home Minister Rajnath Singh laid the foundation stone for an oil refinery in Mongolia during his three-day visit to Central Asian country in a bid to further enhance India's bilateral relationship with Mongolia and strengthen security cooperation.
This refinery project has been financed by the Government of India through a line of credit of USD 1 billion.
The ground breaking ceremony of an oil refinery took place at Altanshiree Soum in southern Dornogovi province along with the Prime Minister of Mongolia, U Khurelsukh.
Yeddyurappa suggests renaming of B'luru Haj House after Abdul Kalam
Former Karnataka Chief Minister B.S. Yeddyurappa has suggested to rename the Haj House in Bengaluru after former president Dr. APJ Abdul Kalam.
This came two days after Minority Welfare and Wakf Minister of Karnataka, Zameer Ahmad raised the issue of re-naming of the state Haj House as Tipu Sultan Haj Ghar.
The BJP is opposed to the plan to rename Haj Bhavan,saying it was a building for the entire Muslim community and not just for Tipu's followers.
Senior BJP leader and former deputy Chief minister R Ashoka had said Haj Bhavan was among the development projects of the Yeddyurappa government and that Congress was now trying to 'hijack' it by naming it after Tipu.
Tipu Sultan is a powerful symbol for Muslim minorities in Karnataka and the Congress party heavily relies on the Muslim vote bank in the state.
Adityanath launches cleanliness drive in Gomti River Bank
Uttar Pradesh Chief Minister Yogi Adityanath began a cleanliness drive in Gomti River Bank in Lucknow on June 24.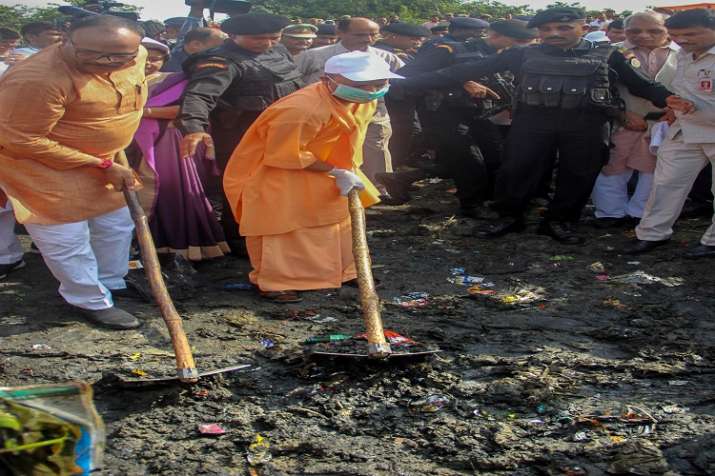 Launching the Gomti Nadi Safai Maha Abhiyan, the Chief Minister also made people present there to take a pledge to devote time to keep their surroundings clean.
The drive will generate awareness among the people about the environment and motivate them to keep the rivers clean. The cleanliness drive will continue till the river is completely cleaned.
India plans to make Chabahar Port operational by 2019
The Indian government is trying to make the Chabahar Port in Iran to become operational by 2019.
Iran and India, in February 2018, signed an agreement worth $85 million to develop Chabahar Port in south-eastern Iran.
The lease agreement gives operational control to India of Shahid Beheshti port (phase one of the Chabahar port)
The port will open a new strategic transit route between India, Iran and Afghanistan.
The Chabahar port complex is expected to open way for millions of dollars in trade and cut its dependence on Pakistan.
The Indian-backed port will also serve as a new transportation corridor for land-locked Afghanistan.
East India Climate Change conclave begins in Patna
The two-day East India Climate Change conclave was organised in Patna which was jointly inaugurated by Bihar Chief Minister Nitish Kumar and Union Minister for Environment, Forest and Climate Change Harsh Vardhan.
The conclave has been organised by the Bihar Environment and Forests Department in association with the think tanks, Asian Development Research Institute (ADRI) and Action on Climate.
The conclave was attended by the ministers and officials from six eastern states namely Bihar, West Bengal, Jharkhand, Odisha, Chhattisgarh and Assam to discuss issues related to the impact of climate change on the region since the eastern part of the country is prone to disasters like floods, drought and earthquakes and climate change.
UP to develop Garhmukteshwar on lines of Haridwar
In a bid to enhance tourism in the state, the Uttar Pradesh government has decided to develop the Garhmukteshwar town in Hapur district of the state as a major tourist destination on the lines of Haridwar in Uttarakhand.
The cost of the project is estimated to be Rs 500 crore.
The town on the banks of Ganga is proposed to be developed for eco-tourism, adventure tourism along with the availability of other facilities like river rafting and boating in order to attract youths.
Air India launches 'Maharaja Direct'
State-run carrier Air India has introduced 'Maharaja Direct', a new category of seats for the passengers on long-haul international flights.
The revamped Maharaja business class was launched by the Civil Aviation Minister Suresh Prabhu on June 22.
It comes with upgraded products and services ranging from interior decor to crockery, crew uniform to food & beverage options and a host of other offerings.
It is aimed at promoting business and first class services to passengers and match industry standards.
---
---
APPOINTMENT & RETIREMENT
Arijit Basu Appointed SBI's New Managing Director
The appointments committee of the cabinet has appointed Arijit Basu as the new Managing Director of State Bank of India.
Basu has been appointed as MD with effect from the date of taking over charge till his superannuation in October 31, 2020.
Prior to this, Basu served as the deputy managing director at SBI.
With this appointment, the SBI will have four managing directors. As per the SBI Act, the bank can have four managing directors.
Justice Chamleswar retires from SC
Justice Jasti Chelameswar, one of the senior most judge of the Supreme Court ended his tenure and retired on June 22 after serving for a period of six years and eight months.
Justice Chelameswar shot into the limelight on January 12 by holding a press conference along with three others Justices Ranjan Gogoi, Madan B Lokur and Kurian Joseph  saying "all was not well" on the administrative side of the Supreme Court. It was an open critic of the functioning of the Chief Justice of India Dipak Misra.
He was appointed on the same day, October 10, 2011, along with CJI Misra, who became senior by virtue of his seniority of being sworn in first.
---
---
AWARDS
Prem Chopra honoured with living legend award
Veteran Bollywood actor Prem Chopra was honoured with the Living Legend Prize at the 25th annual Bharat Nirman awards in Kolkata.
Besides the well-known actor Raza Murad was also felicitated under the 'Achievers Awards' category for 'Film Actor'.
Olympic gold medallist and former India hockey captain Gurbux Singh and ex-Governor of West Bengal Justice Shyamal K Sen were conferred lifetime achievement awards.
Bharat J Mehra was rewarded for social welfare activities while Prahladha Rai Agarwala was received the entrepreneurship award.
Awards were presented to around 17 people for their various feats.
Delhi government bags 4 SKOCH Order-of-Merit Awards
The Government of Delhi has bagged four Order-of-Merit Awards from SKOCH during its 52nd SKOCH Summit in New Delhi.
The awards includes:
SKOCH Order-of-Merit for 'Jan Suvidha (Toilet) Complex Monitoring'
SKOCH Order-of-Merit 'Night Shelter Management System'
SKOCH Order-of-Merit for 'GIS Mapping of DUSIB Vacant Land' and
SKOCH Order-of-Merit Award for 'Aam Admi Mohalla Clinic Project (Health)'.
Skoch Group is a think tank dealing with socio-economic issues with a focus on inclusive growth since 1997. The Group has instituted India's highest independent civilian honours in the field of governance, finance, technology, economics and social sector.
---
---
SPORTS NEWS
Sandeep Sejwal clinches gold at Singapore National Swimming C'ships
Indian swimmer Sandeep Sejwal clinched the gold medal in men's 50 meter breaststroke event with a timing of 27:59 seconds at the Singapore National Swimming Championships in Singapore.
Besides, Virdhawal Khade grabbed a silver medal in the 50 meter freestyle event with a timing of 22.68 seconds.
India's R Praggnanandhaa Becomes World's 2nd Youngest Chess Grand Master
In a historic event, Chennai based R Praggnanandhaa has become India's youngest and the second youngest Grandmaster in the world at 12 years, 10 months and 13 days.
Sergey Karjakin of Ukraine had become the youngest Grandmaster at 12 years, seven months in 1990.
Praggnanandhaa became India's youngest Grandmaster after making it to the final round at the Gredine Open in Italy to clinch his third GM.
Praggnanandhaa had already achieved his first GM norm in the World Juniors 2017, and second GM norm at a closed round-robin tournament in Greece.
Ulaanbaatar Cup: Mandeep Jangra wins gold
Commonwealth Games silver medalist from 2014, Mandeep Jangra was the lone Indian boxer to claim a gold medal in 69kg boxing Championship at the Ulaanbaatar Cup in Mongolia.
India ended the tournament with one gold, four silver, and four bronze medals.
The silver medals went to both the women finalists Sonia Lather (57kg) and Lovlina Borgohain (69kg) and Himanshu Sharma (49kg) and Etash Khan (56kg).
Ending with bronze medals were Shiva Thapa (60kg), debutant Vanhmlimpuia (75kg), Ashish (64kg), and Bina Devi Koijam (48kg).
Amit wins gold at World Para Athletics
India's Amit Kumar Saroha has clinched the gold medal in the men's club throw F51 event at the World Para Athletics Grand Prix in Tunisia.
The wheelchair-bound Indian athlete, a world silver medallist, produced the season's best performance of 29.42m to bag the gold.
In the men's shot put F57 Kuniya Puyil Sujith threw 11.47m with teammate Bhagat Singh (11.19m) in second place – the only para-athletes to go beyond the 11-metre mark.
---
---
TECHNOLOGY
India's 1st robotic telescope launched
India's newest and first robotic telescope called GROWTH-India has been launched at the Indian Astronomical Observatory (IAO) at Hanle in Ladakh.
The telescope designed to observe dynamic or transient events in the universe started observing the skies beginning with observing the first light of the targeted Messier catalog – a catalog of nearby, bright astronomical sources accessible from the northern hemisphere.
GROWTH-India is part of a multi-country collaborative initiative known as 'Global Relay of Observatories Watching Transients Happen' (GROWTH) to observe transient events in the universe.
Universities and research institutes from the US, the UK, Japan, India, Germany, Taiwan, and Israel are part of the initiative.
The completely robotic optical research telescope is intended to capture cosmic events happening in timescales substantially shorter than light years – years, days and even hours.
---
---
OBITUARY
Veteran Rock Climber and Mountaineer Passes Away
Veteran rock climber and mountaineer Gautam Kanjilal passed away of lung infection in Kolkata. He was 69.
---
---
IMPORTANT DAYS
June 23: International Widows' Day
International Widows Day is a global awareness day that takes place annually on June 23.
The day was launched by the United Nations in 2010 to raise awareness of the violation of human rights that widows suffer in many countries following the death of their spouses.
---
---
Click here to read Current Affairs in English