Daily Current Affairs 25 May 2018 for Banking/Insurance/SSC and other related exams.
NATIONAL NEWS
PM Modi, Hasina inaugurate Bangladesh Bhavan
Prime Minister Narendra Modi and his Bangladeshi counterpart Sheikh Hasina has inaugurated the Bangladesh Bhavan at Vishwa Bharti University, Santiniketan, West Bengal.
The inauguration of Bangladesh Bhavan in Indian University symbolically highlights the warm bilateral cultural ties between the two countries. It has been built at a cost of Rs. 25 crores
The Bangladesh Bhavan features a museum that showcases renowned poet Rabindranath Tagore's association with that country, the Liberation War of Bangladesh and Indo-Bangla relations.
India Stands 44th In Competitive Rankings, USA Tops: Report
India has moved one notch higher, to the 44th place in the 2018 World Competitiveness Ranking compiled by International Institute for Management Development (IMD).
It is ranked the 12th most competitive economy out of the 14 Asian countries on the list.
The top five most competitive economies in the world in the IMD ranking 2018 includes United States, Hong Kong, Singapore, Netherlands and Switzerland respectively.
India 145th In Healthcare Access, Quality, Iceland Tops: Lancet Report
India ranks 145th among 195 countries in terms of quality and accessibility of healthcare, as assessed in a Global Burden of Disease study published in The Lancet behind its neighbours like China, Bangladesh, Sri Lanka and Bhutan,
The Global Burden of Disease study, however, mentioned that India has seen improvements in healthcare access and quality since 1990.
The study used an index based on 32 causes of death that should be preventable with effective medical care. Each country was given a healthcare access and quality (HAQ) score between 0-100. India's HAQ score is 41.2, up from 24.7 in 1990.
The global average HAQ score was 54.4. Iceland and Norway top the list with a HAQ score of 97 each.
Rajasthan launches 'Nidaan' software for disease monitoring 
Rajasthan government has come up with a new software named 'Nidaan' for presumptive diagnosis and monitoring of seasonal and non-communicable diseases as well as the trends of ailments found in the specific areas.
The software would help strengthen tele-medicine services in the government hospitals of the state as well as formulation of specific action plans for control of diseases.
"Nidaan" will facilitate online entries of as many as 46 diseases and health care services available for their treatment in different institutions.
Centre's Nod To Ordinance For India's 1st Sports University In Manipur
The Union Cabinet has approved an ordinance to set up the India's first national sports University in Manipur.
The ordinance will be on the lines of the bill introduced in Lok Sabha in August, 2017.
The Manipur government has already allocated land for the proposed university.
PM Modi unveils projects of Rs 27,000 cr in Jharkhand
Prime Minister Narendra Modi on May 25 laid the foundation stones for developmental projects worth Rs 27,000 crore from Sindri in Dhanbad, Jharkhand.
During his visit to the state, PM laid the foundation stone of various projects of Central and state governments, including Ranchi City Gas Distribution Project, All India Institute of Medical Sciences in Deoghar, development of Deoghar Airport and revival of Sindri Fertilizer Project.
---
---
INTERNATIONAL NEWS
Pakistan hosts first ever SCO-Regional Anti-Terrorist Structure meeting
Pakistan hosted the three-day Shanghai Cooperation Organisation-Regional Anti-Terrorist Structure (SCO-RATS) meeting in Islamabad. This is the first time that Pakistan hosted the meeting ever since the country became a member of SCO in June 2017.
Legal experts from the eight member states, including India, China, Kazakhstan, Kyrgyzstan, Russia, Tajikistan, Uzbekistan and Pakistan, as well as representatives of the SCO and RATS Executive Committee participated in the meeting.
The main agenda was to talk over the issue related to terrorist threats in the region and how to overcome them.
Nepal became the 1st country in south-east Asia to eliminate Trachoma
According to the World Health Organisation (WHO), Nepal has become the first country in south-east Asia region to eliminate trachoma, world's leading cause of preventable blindness of infectious origin.
Trachoma was the second leading cause of preventable blindness in the Himalayan nation in the 1980s.
Trachoma is a chlamydial infection which happens due to lack of hygiene, unclean water supply and can spread by contact with eye, nose, or throat secretions of a person suffering from the disease or indirectly via flies. The infection is particularly common among children.
Nima Jangmu Sherpa scales 3 highest mountains in single season; sets world record
Nima Jangmu Sherpa, a Nepali woman created a world record by scaling three highest mountains in a single climbing season.
The 28 year old Nima Jangmu has become only woman in the world to climb three highest peaks in Nepal above 8,000 meters in one season within 25 days. She had successfully scaled Mt Everest on May 14 and Mt Lhotse on April 29 and her historic ascent on Mt Kanchenjunga, third highest peak of the world on May 23.
Arjun Vajpai conquers Kangchenjunga; youngest to summit six peaks over 8,000m 
Indian mountaineer Arjun Vajpai this week became the youngest person in the world to scale six peaks over 8,000 metres when he summited the treacherous Kangchenjunga, the third highest mountain in the world.
---
---
APPOINTMENTS
Sushil Chandra gets one-year extension as CBDT Chairman
The Appointments Committee of the Cabinet has approved extension in re-employment of the current Chairman, Central Board of Direct Taxes (CBDT) Shri Sushil Chandra for a further period of one year i.e. up to May 31, 2019.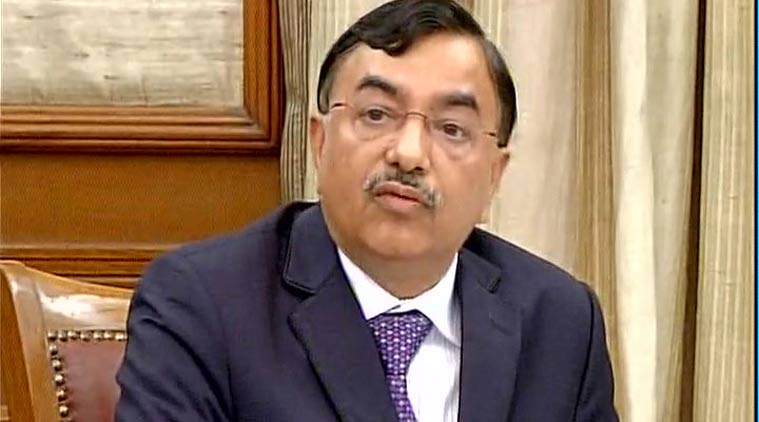 Chandra a 1980 batch officer of Indian Revenue Service (Income Tax cadre) had joined as Chairperson of CBDT in November 2016, replacing Rani Singh Nair.
Justice C K Prasad appointed PCI chief for second term
Former Supreme Court judge C K Prasad has been appointed the chairman of the Press Council of India (PCI) for a second term.
Prasad headed the media watchdog for three years from November 2014. He had succeeded Justice Markanday Katju.
---
---
TECHNOLOGY
HDFC ERGO brings AI chatbot to Google Assistant
General insurance company HDFC ERGO launched its Artificial Intelligence (AI)-enabled chatbot "DIA" on Google Assistant to enable users to access the service through Google's home device.
With DIA, the company aims to provide instant solutions to user queries related to general insurance through a simple voice command — "Ok Google, Talk to HDFC ERGO"
UNICEF launches data visualisation app
The UNICEF has launched a 'data visualisation app' which provides a user-friendly visual representation of complex analytics of the education scenario in the country.
The app has been made with technical inputs from the UNICEF, in collaboration with the National Institute of Education Planning and Administration (NIEPA) and the National Council for Educational Research and Training (NCERT).
It uses the UDISE (Unified District Information System for Education), the NAS (National Assessment survey) and demographic data.
The App can be used as a visual tool by policy makers, senior government officials, academia, and researchers to address gaps and monitor programmes in the field of education.
---
---
AWARDS
Julia Louis-Dreyfus to Be Awarded Mark Twain Prize for Humor
Julia Louis-Dreyfus has been named to be with the 2018 Mark Twain Prize for American Humor, an award given to the world's greatest humorists.
The honor, in its 21st year being handed out by the John F. Kennedy Center for the Performing Arts, will be bestowed at an gala performance event October 21 at the Kennedy Center Concert Hall in Washington, D.C.
The award recognizes individuals who have had an impact on American society in ways similar to the distinguished 19th-century novelist and essayist Samuel Clemens, best known as Mark Twain.
---
---
OBITUARY
Veteran Gujarati writer, humourist Vinod Bhatt Passes Away 
Eminent Gujarati writer and humourist Vinod Bhatt died following a prolonged illness. He was 80.
Bhatt's body was donated to a city hospital for medical research study as per his wish.
---
---