Daily Current Affairs 29 May 2018 for Banking/Insurance/SSC and other related exams.
NATIONAL NEWS
Main Event of 4th International Yoga Day Celebrations To Be Held At Dehradun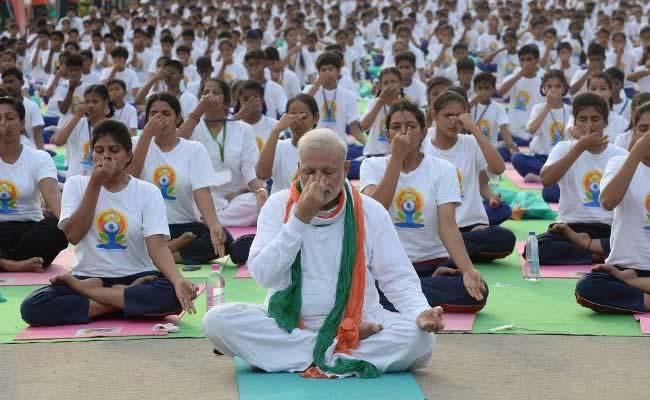 The Mass Yoga Demonstration (Main Event) of 4th International Yoga Day celebrations (IDY-2018) will be held on 21st June 2018 at Dehradun in Uttrakhand as announced by ShriVaidya Rajesh Kotecha,  Secretary, Ministry of AYUSH.
Himachal govt launches 'Prakriti Kheti Khushhaal Kissan Yojana' to promote organic farming
The state government of Himachal Pradesh has introduced 'Prakritik Kheti Khushhaal Kisaan Yojana' to promote organic farming ensuring production of healthy food grains, free from harmful chemical ingredients.
The new scheme aims to adopt an integrated approach to enhance agricultural income by adopting low-cost climate-resilient Zero Budget Natural Farming System (ZBNF).
A state-level committee headed by the chief minister would monitor the implementation and progress under ZBNF.
The system will not only improve soil fertility, water infiltration but also discourage use of fertilizers and pesticides and reduce environment
HP CM launches 'Polythene Hatao, Paryavaran Bachao Campaign'
Himachal Pradesh Chief Minister, Jai Ram Thakur, launched a state wide week long 'Polythene Hatao, Paryavaran Bachao' campaign on May 27, ahead of the World Environment Day, of which India is the global host.
The focus of the campaign is to collect plastic waste from both urban and rural areas and use it to produce energy, sensitise people about the harmful effects of plastic waste
The campaign has been organized by the Department of Environment, Science and Technology of the government. The state is observing this week, starting from May 27, 2018 to June 2, 2018, as polythene alleviation week.
Dr Jitendra Singh announces Rs 28 crore for 'Brahmaputra Study Centre' at Gauhati University
The Central Government has approved setting up of an exclusive "Brahmaputra Study Centre" at Gauhati University, Guwahati to offer an opportunity for research in different aspects of river Brahmaputra.
The Union Minister of State (Independent Charge) of the Ministry of Development of North Eastern Region (DoNER), DrJitendra Singh said that a fund of about 28  crore will be provided by the Ministry of DoNER for this purpose.
The University has decided to provide land within the campus for a separate block for the Brahmaputra Study Centre / Department.
Ministry of Power Launches PRAAPTI App to Bring Transparency in Electricity Payments
An App namely PRAAPTI (Payment Ratification And Analysis in Power procurement for bringing Transparency in Invoicing of generators), and a web portal, www.praapti.in, has been officially launched by Minister of State (I/C) for Power, Shri R.K. Singh.
PRAAPTI App and web portal has been developed to bring transparency in power purchase transactions between Generators and Discoms.
Benefits
The App will help the stakeholders in getting month-wise and legacy data on outstanding amounts of Discoms against power purchase as it will capture the Invoicing and payment data for various long term PPAs from the Generators.
Allow users to know the details related to the payments made by the Discoms to the power generation company as well as help DISCOMs and GENCOs to reconcile their outstanding payments.
Ministry of Women and Child Development signs MoU with Government of Uttar Pradesh
The Ministry of Women and Child and Development, Government of India has signed a Memorandum of Understanding (MoU) with Department of Women and Child Development, Government of Uttar Pradesh, in New Delhi for management of Home of Widows at SunrakhBangar, Vrindavan.
The Ministry of Women and Child Development has constructed this shelter home for widows with a capacity of 1000 inmates.
The MoU shall be in force for a period of 2 years which may be renewed for further period on satisfactory running of the Home.
The Home shall be run by the Government of Uttar Pradesh themselves or by any state government institution or by any civil society or by any reputed non-government organization to be decided by the State Government.
Cochin International Airport world's first fully solar energy-powered airport: UNEP 
The Cochin International Airport Ltd (CIAL) has been recognized as the world's first fully solar energy-powered airport by the United Nations Environment Programme (UNEP).
The solar power plants of the airport produces 0.125 million units of power a day from its eight power plants with a total installation capacity of 30 MWp. This will be scaled up to 40 MWp by July 2018.
The farm is accompanied by a solar farm, with vegetables grown below and between solar panels.
Amit Shah Begins 'Sampark for Samarthan' campaign for 2019 polls
Bharatiya Janata Party (BJP) President Amit Shah launched a massive 'Sampark se Samarthan' (contact for support) personal outreach programme, to generate awareness about the Narendra Modi government's 4 years achievements so far.
The campaign is a part of the BJP's efforts to reach out to maximum number of people ahead of the 2019 LokSabha polls.
Shah started his grand public outreach campaign from the house of former Army chief, Gen Dalbir Singh Suhag in Gurgaon.
In the massive door-to-door initiative Shah would personally meet at least 50 eminent personalities to enlighten them about the BJP-led National Democratic Alliance government's achievements.
Gujarat CM Vijay Rupani launches 'Reuse of Treated Waste Water Policy'
The Gujarat government has unveiled its 'Reuse of Treated Waste Water Policy' to reduce the state's dependence on fresh water sources like the Narmada river.
The policy will promote the use of treated waste water and will see the setting up of sewage treatment plants (STP) in all major towns and cities of the state.
It aims to double the existing water treatment capacity to around 5,000 million litres per day (MLD) in the next two years.
---
---
BUSINESS
IMD partnered with BSNL for sending extreme weather warnings in Delhi
In a move to warn the general public about the extreme weather condition, the India Meteorological Department (IMD) is teaming up with state-run Bharat Sanchar Nigam Limited (BSNL).
Recently, the IMD was accused for not sending out specific alerts, after which the weather body decided to team up with BSNL for alerting the common people.
Under the initiative, BSNL has come up with a technology asper which IMD will send the alert (about an impending extreme weather event warning like thunderstorm, dust storm, heatwave) to BSNL, which in turn will pass it to all BSNL numbers in Delhi.
Besides, area specific alerts will also be sent to users if they are in that particular place where the extreme weather pattern is going to occur, even if their phone numbers do not belong to that particular telecom circle.
---
---
BANKING
World Bank to lend $21.7 mn for Rajasthan's public financial management
India has signed a $21.7 million loan agreement with the World Bank for strengthening public financial management in Rajasthan.
The total project size is approximately $31 million, of which $21.7 million will be financed by the World Bank, and the remaining amount will be funded-out of the state budget
The duration of the project is five years.
---
---
APPOINTMENT
Kummanam Rajasekharan takes oath as Mizoram Governor
Kummanam Rajasekharan has been sworn in as the Governor of Mizoram at the Raj Bhavan in Aizwal on May 29.
He replaced Gen. (retired) Nirbhay Sharma who completed his term on May 28 after taking charge in May 2015.
Chief Justice of Guwahati High Court Ajit Singh administered the oath of office to him as, the 18th Governor of Mizoram.
---
---
DEFENCE NEWS
DAC approves procurement of equipments worth Rs 6,900 crore
The Defence Acquisition Council (DAC), chaired by Raksha Mantri Smt Nirmala Sitharaman, has approved the procurement of equipment for the Defence Forces valued at over Rs. 6900 crore.
The approval included the procurement of Thermal Imaging (TI) Night Sights for the Rocket Launcher (RL) used by the Army and the Air Force under 'BUY (Indian) IDDM' category through established Indian Vendors.
India, US, Japan start 22nd Malabar exercise in Guam
Indian warships are all ready to begin its journey towards the Western Pacific to join the 2018 MALABAR exercise which will be held jointly with the US and Japanese navies off the US island territory Guam in Micronesia, Pacific Ocean.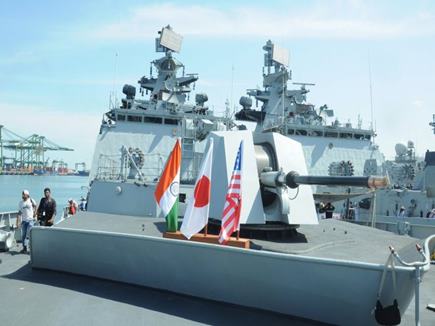 From the Indian side indigenoeus stealth frigate INS Sahyadri, missile corvette INS Kamorta and fleet tanker INS Shakti as well as P-8I long-range maritime patrol aircraft will participate in the Malabar exercisescheduled from June 6 to 15.
The US will field its over 100,000-tonne USS Ronald Reagan, a nuclear-powered super-carrier with its full complement of F/A-18 fighters, early-warning and electronic warfare aircraft, and other frontline assets including a nuclear attack submarine and P-8A patrol aircraft.
Japan, in turn, will participate with one of its two 27,000-tonne helicopter carriers, a Soryu-class submarine and Kawasaki P-1 maritime aircraft.
---
---
SPORTS
Virat Kohli emerged as International Cricketer of Year at CEAT ratings
India skipper Virat Kohli has emerged as the International Cricketer of the Year 2018 at the CEAT Cricket Ratings awards presented in Mumbai on May 28.
International Batsman of the Year Award: ShikharDhawan
International Bowler of the Year Award: Trent Boult (New Zealand)
T20 Batsman of the Year Award : Colin Munro (New Zealand)
T20 Bowler of the Year Award: Rashid Khan (Afghanistan)
Outstanding Innings of the Year Award: HarmanpreetKaur
Lifetime Achievement Award: Farokh Engineer (former India wicket-keeper)
Popular Choice Award: Chris Gayle (West Indies)
Domestic Player of the Year Award: MayankAgarwal
U19 Player of the Year award: Shubhman Gill
---
---
SCIENCE
Indian, Bangladeshi oceanographers to jointly explore Bay of Bengal
The National Institute of Oceanography (NIO), Goa will train oceanographers from Bangladesh for joint exploration of the Bay of Bengal by marine scientists from both countries.
Under the joint exploration, Scientists from Bangladesh Oceanographic Research Institute (BORI) will be visiting NIO for short and long term durations to train in oceanographic research and to have understanding of the subject. Similarly, NIO scientists will be visiting BORI to impart training in various fields of
---
---
OBITUARY
Former Bihar minister KameshwarPaswan passes away
Former Bihar minister and senior BJP leader Kameshwar Paswan died after prolonged illness.
He was 77
---
---
IMPORTANT DAYS
International Day of UN Peacekeepers: 29 May
The "International Day of United Nations Peacekeepers", May 29, was designated by UN General Assembly Resolution 57/129 of December 11, 2002.
The day aims to pay tribute to all the men and women who have served and continue to serve in United Nations peacekeeping operations for their high level of professionalism, dedication, and courage and to honor the memory of those who have lost their lives in the cause of peace."
This year, the United Nations celebrates the 70th anniversary of UN peacekeeping.
The theme for International Day of United Nations Peacekeepers 2018 is "70 Years of Service and Sacrifice".
Nepal celebrates 11th Republic Day
Nepal observed its 11th Republic Day on May 29, 2018 at Army Pavilion in Kathmandu.
The Republic Day programme was attended by President Bidya Devi Bhandari, Vice President Nanda Bahadur Pun, Prime Minister K.P.SharmaOli , diplomats from various countries and other dignitaries.
On May 28, 2008, the Constituent Assembly of the Himalayan nation declared Nepal a Federal Democratic Republic, abolishing the 240 year-old monarchy.
---
---
Click here to read Current Affairs in English