Daily Current Affairs 3 June 2018 for Banking/Insurance/SSC and other related exams.
NATIONAL NEWS
Shri Shripad Yesso Naik to inaugurate National Health Editors' Conference on Yoga in New Delhi 
The Minister of State for AYUSH (Independent Charge), Shri Shripad Yesso Naik will inaugurate the 3rd National Health Editors' Conference on Yoga at Morarji Desai National Institute of Yoga (MDNIY) in New Delhi on June 05, 2018.
The Ministry of AYUSH is organizing this Conference in collaboration with the Press Information Bureau (PIB) and Morarji Desai National Institute of Yoga (MDNIY).
This Conference on the theme 'Evidence Based Recent Innovative Research on Yoga – A Review of Yoga Research' is being organized to mark the beginning of International Day of Yoga, which takes place on 21st June every year.
Mahesh Sharma launches Drive for Plastic-Free Agra
The Ministry of Culture held a high level stakeholders' workshop on the Taj Mahal  in Agra under the chairmanship of Minister of State (I/C) of Culture and Minister of State for Environment, Forest & Climate Change, Dr. Mahesh Sharma.
The workshop aimed to discuss the issues of pollution around Taj Mahal with focus on drawing short term and long term measures to deal with the problem and to protect the Taj from environment pollution.
The meeting was followed by the Taj Declaration to 'Beat Plastic Pollution'  pledging to make the 500 metres area in and around the Taj Mahal litter free.
PSU Board Meetings at Tourist Spots to Boost Tourism
Following a suggestion by Prime Minister Narendra Modi, Indian PSUs would organise Board meetings and conference at lesser known tourist destinations to help promote tourism in the country.
The Ministry has suggested the names of five tourist destinations identified to be developed as iconic sites.
These include Ajanta-Ellora (Aurangabad), Bodhgaya, Hampi, Khajuraho and Mahabalipuram.
The managements of central public sector enterprises (CPSEs) have been directed to hold at least one or two Board meetings, strategic meets or conferences at any of the above five destinations in a year.
Two day Conference of Governors, LGs to be held in New Delhi
A two day Conference of Governors and Lieutenant Governors will be held at Rashtrapati Bhavan on June 4-5, 2018..
This will be the 49th such Conference which will be presided by President Ram Nath Kovind.
The Conference will discuss important thematic issues in various sessions.
Andhra govt introduces Scale-out Scheme for Natural Farming
The Andhra Pradesh has launched a Zero Based Natural Farming (ZBNF) scale-out scheme, aimed at benefitting around six million farmers by 2024.
The state agriculture department has signed a Memorandum of Understanding (MoU) in this regard, with the Sustainable India Finance Facility (SIFF), an initiative with the partnership of the United Nations Environment Program, the World Agroforestry Center, and the BNP Paribas.
The agreement aims at scaling up the ZBNF against investment worth Rs. 16,134 crores over the next 6 years.
As of 2017-18, around 1, 63,034 farmers are practicing ZBNF in Andhra Pradesh. However, the government here aims to bring all farmers in the state under the scheme by 2024.
Launch of the "Adventure Tourism Guidelines" by The Ministry of Tourism
The Ministry of Tourism along with the Adventure Tour Operators Association of India (ATOAI) have launched a set of guidelines on 'Safety and Quality Norms for Adventure Tourism in India' that lists the basic minimum standards for adventure tourism activities.
The sole aim of this initiative is to help adventure tour operators understand and execute safety guidelines in a better manner.
The Ministry of Tourism along with ATOAI and all the tourism stakeholders are committed for India to be looked at as one of the best adventure tourism destinations, with a strong safety management system in place.
Singapore Names Orchid after PM Modi
The Government of Singapore has named an Orchid after Prime Minister Narendra Modi to commemorate his visit to the National Orchid Garden of Singapore.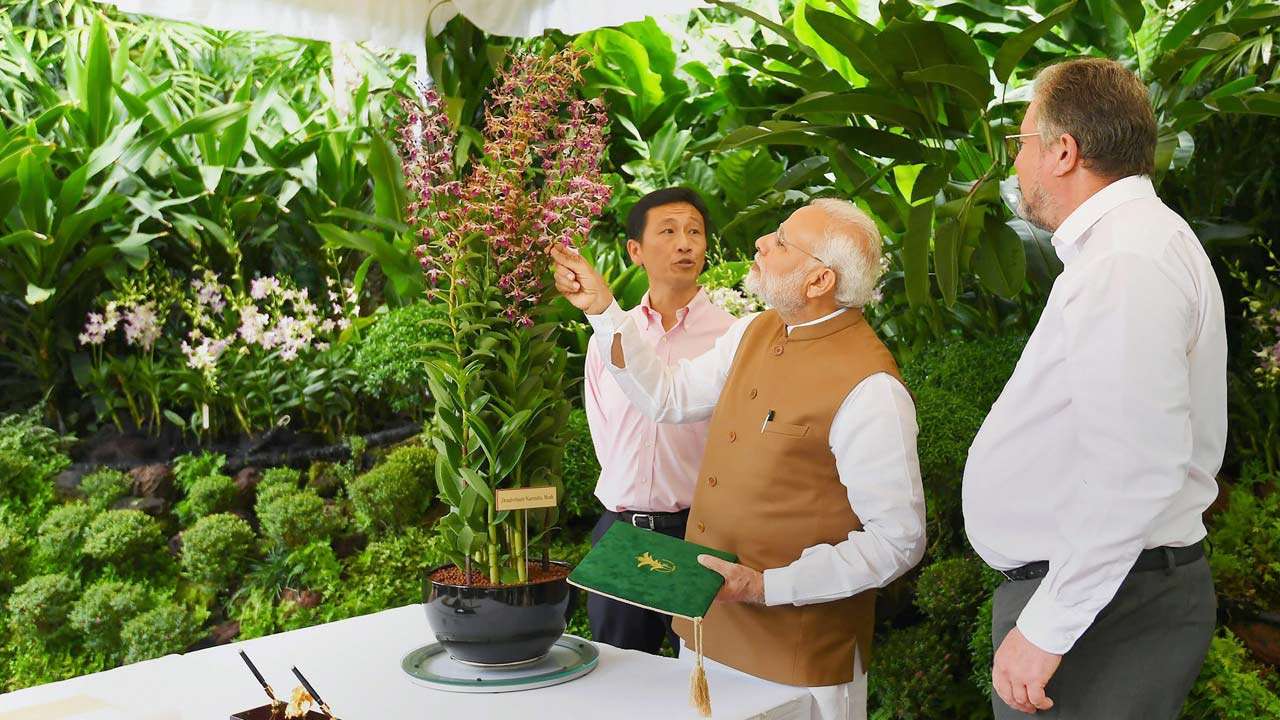 The orchid, located within the Singapore Botanic Gardens, was named Dendrobrium Narendra Modi to mark Prime Minister's visit.
It is the only tropical garden to be listed as a UNESCO World Heritage Site.
PM Modi unveils Mahatma Gandhi plaque at Clifford Pier in Singapore
Prime Minister Narendra Modi and Singapore's Emeritus Senior Minister Goh Chok Tong jointly unveiled a plaque to pay tribute to Mahatma Gandhi at the immersion site of his ashes at the waterfront Clifford pier in Singapore.
Andhra govt to give Allowance to Unemployed Youth
The Andhra Pradesh government has announced to implement a first of its kind Unemployment Scheme to cater the unemployed graduate youth of the state.
Under the scheme, the unemployed graduate youths would get a monthly allowance of Rs 1,000 each with an upper age limit of 35.
The government estimated that there were about 10 lakh unemployed people as per the "Pulse Survey data and the scheme would cost Rs 1,200 crore a year to the public exchequer.
Odisha launches Health Insurance Scheme for Journalists
The Odisha Government has launched a Health Insurance Scheme called "Gopabandhu Sambadika Swasthya Bima Yojana" for working journalists in the state.
The health insurance scheme for working journalists will be implemented in phased manner with effect from June 1, 2018.
In the first phase, as many as 3,233 working journalists will get health insurance coverage up to Rs 2 lakh a year.
At least five members of the journalists family will be covered under the scheme.
The scribes will get their health insurance card from the District Information and Public Relations Officer (DIPRO) in their respective districts.
Deccan Queen completes 88 years of Service
Deccan Queen, the legendary Express train, also known as Dakkhan ki Rani, that has formed an irreplaceable part of fairy tales and poems in the state of Maharashtra completed 88 years of service on June 1.
Deccan Queen is India's first deluxe train launched by the Indian Railways in 1930 to connect two of Maharashtra's most prominent cities- Mumbai and Pune. 
It is named after Pune, the city popularly known as the Queen of Deccan.
Maharashtra Govt unveils 'Sandbox' to boost Fintech Innovation
The Maharashtra Government has announced the opening up of a 'sandbox' to boost start-ups, aiming to develop the financial capital into a fintech hub.
In this sandbox, all the start-ups will be welcome who can register, open their APIs (application programming interface) and banks can consume.
Maharashtra, the first State to have a dedicated fintech policy, is also planning to have a dedicated 'Fintech Officer' in the Department of Information Technology.
North East region witnessed over 18% growth in direct tax collections in 2017-18: Shiv Pratap Shukla
The Union Minister of State for Finance Shiv Pratap Shukla announced that the North East region has witnessed over 18 percent growth in direct tax collections in 2017-18. 
The net tax collection was Rs 7,097 crore representing 18.3 percent growth over the previous year.
1.89 lakh more people in the region were brought under the ambit of tax net during the same fiscal.
With this, the total tax payers in North East barring Sikkim stands at around 7.38 lakh persons.
---
---
DEFENCE NEWS
Nuclear-capable Agni-5 ballistic missile successfully test-fired off Odisha coast
India successfully test-fired its indigenously developed nuclear capable long range ballistic missile Agni-5 with a strike range of 5,000 km. The surface-to-surface missile was launched from Dr Abdul Kalam Island off the Odisha coast.
This was the sixth trial of the state-of-the-art Agni-5 ballistic missile.
Unlike other missiles of the series, Agni-5 is the most advanced with new technologies in terms of navigation and guidance, warhead, and engine
At present, apart from the Agni-5, other Agni missiles that India has in its armoury are: Agni-1 with a 700-km range, Agni-2 with a 2,000-km range, Agni-3 and Agni-4 with 2,500 km to more than 3,500 km range
Indian Navy completes refit of 32-year-old Mauritian ship
The Indian Navy has completed the "Service Life Extension Refit" of a 32-year-old ship of the Mauritius Coast Guard.
The Indian Navy began the refit of the Mauritius Coast Guard Ship (MCGS) Guardian on December 1 2018 at the Naval Dockyard in Mumbai ensuring timely completion of its hull, engineering, electrical and weapon work package.
MCGS Guardian, after successfully completing all the mandated trials, is now set to return to Mauritius.
India Successfully Test-Fires SFDR Propulsion Based Missile
India successfully carried out the flight test of Solid Fuel Ducted Ramjet (SFDR) propulsion based missile from the Launch Centre-III of Integrated Test Range at Chandipur in Odisha.
---
---
TECHNOLOGY
China Successfully Launches New Earth Observation Satellite 
China successfully launched a new Earth observation satellite, Gaofen-6, which will be mainly used in agricultural resources research and disaster monitoring.
The satellite was launched on a Long March-2D rocket from the Jiuquan Satellite Launch Centre in northwest China. It was the 276th mission of the Long March rocket series.
A scientific experiment satellite named Luojia-1 was sent into space at the same time.
---
---
OBITUARY
Former Footballer Timothy Pereira Passes Away
Timothy Pereira, a former international footballer who represented Tata FC, died after a prolonged illness. He was 75.
---
---
Click here to read Current Affairs in English