Daily Current Affairs 5 June 2018 for Banking/Insurance/SSC and other related exams.
NATIONAL NEWS
India among top five countries in e-waste generation: Study
Based on a recent study by ASSOCHAM-NEC, India continues to be among the top five countries generating e-waste, despite the government's emphasis on Swachch Bharat Abhiyaan and Smart Cities project.
The other countries topping the chart of e-waste generation are China, USA, Japan and Germany.
E-waste generated in India is about 2 million TPA (tonnes per annum) and the quantity recycled is about 438,085 TPA.
Maharashtra contributes the largest e-waste of 19.8 percent in India but recycles only about 47,810 TPA.
The study was released by the Associated Chambers of Commerce and Industry of India (Assocham) jointly with a Japanese multinational NEC on June 5.
Harsh Vardhan unveils non-plastic bound Nat Geo
Union Environment Minister Harsh Vardhan unveiled the first non-plastic bound copy of the National Geographic magazine inline with 2018 World Environment Day's theme "Beat Plastic Pollution".
The plastic wrapping of the magazine in India, UK and the US editions has been eliminated from June onwards.
This move will enable the magazine brand to save more than 2.5 million single-use plastic bags every month.
Polythene to be completely prohibited from 31st July in Uttarakhand
Uttarakhand Chief Minister Trivendra Singh Rawat has imposed a complete ban on the use of Polythene in the state from 31st July 2018.
All the polythene vendors have been asked to finish the polyethene stock before 31st July.
A comprehensive public awareness campaign will be launched on environmental damage caused by polythene, one week before the entire ban on polythene in the state.
Third National Health Editors' Conference on Yoga held in New Delhi 
The 3rd edition of National Health Editors' Conference on Yoga was inaugurated by the Minister of State for AYUSH (Independent Charge), Shri Shripad Yesso Naik at Morarji Desai National Institute of Yoga in New Delhi.
The Conference was jointly organized by Morarji Desai National Institute of Yoga and Press Information Bureau (PIB), Ministry of Information Broadcasting ahead of International Yoga Day (June 21).
The objective of the Conference was to spread awareness about principles and practices of Yoga and to bring out the scientific and technical aspects of Yoga with the help of experts.
The special focus of Ministry of Ayush in 2018 is on women of 40 plus age group. The Ministry is developing a Yoga protocol in consultation with Indian Menopause Society (IMS) for the benefit of the women who may have health issues particularly in this age group.
Geo-Intelligence Asia – 2018 
The 11th edition of Geo-Intelligence Asia 2018 took place at Manekshaw Centre, New Delhi on 04-05 June 2018.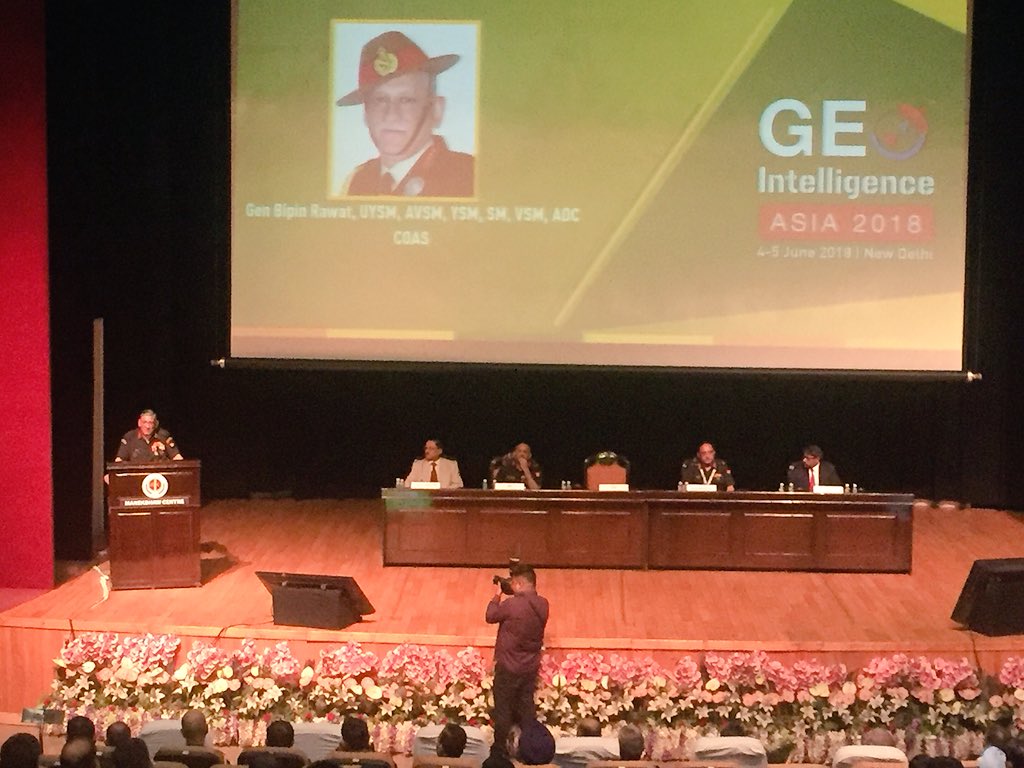 The theme of Seminar was 'GeoSpatial : A Force Multiplier for Defence and Industrial Security'.
The Seminar was organised by GeoSpatial Media and Communication with Directorate General of Information System as Knowledge Partners and Military Survey as Co-organisers.
It brought together the military, security officials including BSF and Police Forces, Government and industry together to examine the latest technology solutions and on the critical role of geospatial technology in military and security applications.
IRCTC Introduces Bagasse based Food Packaging to Commemorate World Environment Day 2018
On the occasion of World Environment Day, the Indian Railway Catering and Tourism Corporation (IRCTC) launched the trial run of the environment-friendly bagasse-based food packaging on eight select Shatabdis and Rajdhanis originating from the New Delhi.  
This initiative comes as a part of the Railways' drive to go green as it also aims at boosting the nation's sugarcane industry.
Bagasse, the fibrous remains left behind after extracting sugarcane juice, is being used to make disposable cutlery and containers in which meals will be served instead of the polymer ones.
The Indian Railways aims to introduce the bagasse-based packaging on all the Rajdhani, Shatabdi and Duronto trains in the coming months.
Government announces Rs 8000 crore Package to Cash-Starved Sugar Mills
The Union government has announced a package of more than Rs 8,000 crore to Sugar Industry to provide relief to sugarcane farmers and to clear their dues.
The package will include creation of buffer stock of 30 LMT (lakh metric tonnes) of sugar with Rs 1,200 crore. This money will be directly transferred to accounts of sugarcane farmers.
Rs 4,400 crore will be used to increase ethanol production to divert sugarcane away from sugar mills which are unable to dispose of their inventories.
The government has also decided to ensure a minimum sale price of Rs 29/kg for sugar which will help clearance of sugarcane dues to the farmers.
India is the second largest producer of sugar in the world after Brazil and is also the largest consumer.
---
---
INTERNATIONAL NEWS
Asia-Pacific Regional Conference on ECD & 3rd Asia- Pacific Regional Policy Forum on ECCE begin in Kathmandu
The 2018 Asia-Pacific Regional Conference on Early Childhood Development (ECD) and Third Asia- Pacific Regional Policy Forum on Early Childhood Care and Education (ECCE) kicked off in Kathmandu.
The three-day conference from June 5-7, will discuss knowledge-exchange about new research and use of preliminary child development at international level.
---
---
BUSINESS NEWS
Microsoft acquires Github for $7.5bn
Tech giant Microsoft has announced to acquire San Francisco based software development platform GitHub for $7.5 billion.
Created in 2008, GitHub allows code developers to cooperatively manage software by collaborating with each other on their work and has more than 28 million users around the world including Microsoft.
The two companies will empower developers to achieve more at every stage of the development lifecycle, accelerate enterprise use of GitHub, and bring Microsoft's developer tools and services to new audiences.
GitHub's current CEO, Chris Wanstrath, will become a Microsoft technical fellow, reporting to Executive Vice President Scott Guthrie.
---
---
AWARDS
Parliamentary Standing Committee on Finance to get Sansad Ratna Award
The Parliamentary Standing Committee on Finance will be awarded the Sansad Ratna Award 2018 by Prime Point Foundation for its outstanding performance.
M. Veerappa Moily, Chairman of the Parliamentary Standing Committee on Finance will receive the award at a function to be held in Indian Institute of Technology-Madras on June 9, 2018.
K. Srinivasan, Founder of the Foundation has that they have been awarding top performing MPs since 2010 based on the criteria like the reports presented, numbers of sittings and number of subjects selected among others.
Corporation Bank bags award
Corporation Bank has bagged 'Investor Relations Awards 2018' under the category 'Best Expectation Management (Mid Cap)' for 2017-18.
The award instituted by Investor Relations Society India has been recognising companies in investor relation space since 2012.
U Chandrakanth Nayak, General Manager of the bank, received the award at a ceremony in Mumbai.
---
---
APPOINTMENTS
Jordan King appoints Harvard-educated Omar Razzaz as new PM amid anti-govt protests
Jordan's King Abdullah II has appointed a Harvard-educated former senior World Bank official, Omar Razzaz, as the new Prime Minister.
He replaces Hani Mulki, who quit a day before Razzaz's appointment amid widening protests against his government's austerity program.
Mr Razzaz served as education minister in the outgoing Mulki government.
Ecuador's Foreign Minister elected UN General Assembly President
The United Nations (UN) General Assembly has appointed Maria Fernanda Espinosa Garces to be its next President.
Maria, Ecuador's Minister for Foreign Affairs and Human Mobility, succeeds Slovakia's Miroslav Lajcak and will preside over the 73rd session of the Assembly starting from September for a tenure of one year.
She beat Mary Elizabeth Flores Flake, permanent representative of Honduras to the United Nations, by 128-62 votes.
The 193-member General Assembly, one of the highest policy-making bodies at the United Nations, will have a woman presiding over it for the fourth time in UN history.
Malaysia appoints ethnic Indian as new Attorney General
Malaysia's King Sultan Muhammad V has approved the appointment of an ethnic Indian lawyer, Tommy Thomas, as the new Attorney General, amid protests from Islamic groups that the job must be held by a Muslim.
The King approved terminating current Attorney General Mohamad Apandi Ali. 
Tommy Thomas is the first minority to hold the post in 55 years.
---
---
SPORTS NEWS
French Open: Nadal earns 900th win
World No. 1 Rafael Nadal added another feather to his cap by becoming the fifth man in the Open Era to win 900 matches during his entire tennis career.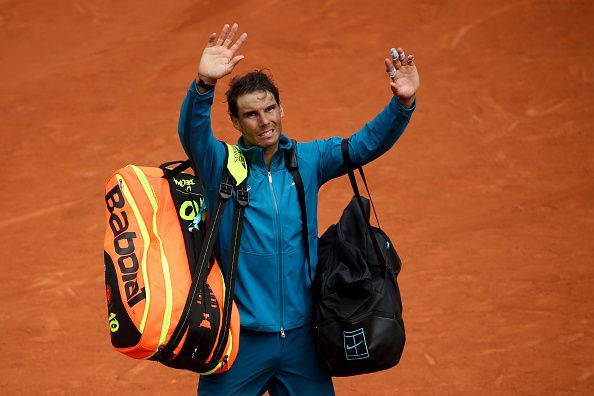 The Spaniard achieved it after recording a 6-3, 6-2, 7-6(4) win over Germany's Maximilian Marterer in the fourth round of French Open 2018.
Earlier the record has been achieved only by by Jimmy Connors (1,256), Roger Federer (1,149), Ivan Lendl (1,068) and Guillermo Vilas (948).
The 10-time French Open champion got his 224th Grand Slam win.
---
---
OBITUARY
William Phipps, original voice of Prince Charming Passes Away
Actor William Phipps, the voice of Prince Charming in the animated Disney film Cinderella, has passed away. He was 96.
Best known for his many roles in 1950s science fiction films, the prolific actor had appeared in more than 200 film and television productions during his career span.
---
---
IMPORTANT DAYS
World Environment Day 2018
World Environment Day (WED) is observed on the June 5 every year since 1974 to encourage awareness and action for the protection of our environment.
WED was established by the UN General Assembly in 1972, on the first day of the Stockholm Conference on the Human Environment. Two years later, in 1974 the first WED was held with the theme "Only One Earth".
India is the global host of 43rd edition of World Environment Day to raise awareness about protecting the environment.
The theme for the World Environment Day 2018, "Beat Plastic Pollution".
2018 theme envisages to aware people about bringing changes in their everyday lives by reducing heavy dependance on plastic to avoid enormous pollution to our environment & to our own health.
---
---
Click here to read Current Affairs in English