Daily Current Affairs 7 June 2018 for Banking/Insurance/SSC and other related exams.
NATIONAL NEWS
India ranks 137th on Global Peace Index 2018
India has been ranked 137th rank among 163 countries on the 2018 Global Peace Index by Australia-based Institute for Economics and Peace.
India has improved by four positions in the overall ranking from 141st in 2018. The main reason for the upliftment in the ranking is due to a reduction in the level of violent crime driven by increased law enforcement.
The index is topped by Iceland, followed by New Zealand, Portugal, Austria and Denmark, whereas war-torn Syria remains the least peaceful country in the world, followed by Afghanistan, Iraq, South Sudan, and Yemen.
Cabinet approves revised guidelines for time-bound closure of sick PSUs
The Union Cabinet has approved the revised guidelines of the Department of Public Enterprises on time bound closure of sick and loss making Central Public Sector Enterprises (CPSEs) and disposal of movable and immovable assets.
The revised guidelines will reduce delays in implementation of closure plans of sick and loss making CPSEs.
These guidelines provide a broad framework for expeditious completion of various processes and procedures for closure of CPSEs by laying down important milestones in the closure process along with timelines, outlining the responsibilities of the concerned Ministries, Departments and CPSE in the process.
QS World University Rankings 2019: IIT Bombay, IISc move up
Three Indian universities feature in the top 200 universities of the QS World University rankings 2019. These includes-Indian Insitiute of Technology (IIT), Bombay, Indian Institute of Science (IISc), Bangalore and IIT Delhi.
| | | |
| --- | --- | --- |
| University | 2019 Rank | 2018 Rank |
| IIT-Bombay | 162 | 179 |
| IISc, Bangalore | 170 | 190 |
| IIT-Delhi | 172 | 172 |
IIT-Bombay is now the top institute in the country at 162 rising 17 positions from 2018, IIT-Delhi retained its 2018 position with a rank of 172 while the Indian Institute of Science has overtaken IIT-Delhi and is ranked 170.
The list has been topped by Massachusetts Institute of Technology for the seventh year in a row followed by Stanford University and Harvard University respectively.
This is the 15th edition of the QS World University Rankings, released by global higher education analysts QS Quacquarelli Symonds.
Andhra Pradesh, Singapore sign pacts for Amaravati development
The state government of Andhra Pradesh and Singapore has signed several pacts for the development of a start-up area (1,691 acres) in the new capital, Amaravati, to transform it into a world-class city.
Under the agreement, the land would be handed over in three phases – 660 acres in the first phase – to the Singapore companies for infrastructure development and other promotional activities.
India and Norway sign MoU to extend health cooperation 
Ministry of Health and Family Welfare has signed a Memorandum of Understanding (MoU) with the Norwegian Ministry of Foreign Affairs to extend the cooperation within health sector through the Norway India Partnership Initiative (NIPI) for a period of three years starting from 2018 to 2020.
This cooperation between India and Norway is aligned with the development goals of Government of India as outlined in its National Health Policy 2017 for achievement of Sustainable Development Goals (SDGs).
The partnership shall also include areas related to maternal, new-born, child health, and shall build on experiences from NIPI phase I and II.
India to help Myanmar in insurance laws
The General Insurance Corp of India (GIC) will assist Myanmar authorities in amending laws related to insurance and reinsurance and in expanding insurance services in the country.
At present, Myanmar Insurance offers 29 types of insurance including those related to health, car, homeowners, life and disability.
Reinsurance is the practice of insurers transferring portions of risk portfolios to other parties by some form of agreement to reduce the likelihood of paying a large obligation resulting from an insurance claim. It is also known as an insurance for insurers.
India records 22 per cent reduction in Maternal Mortality Ratio
India has registered a significant decline of 22 percent in Maternal Mortality Ratio (MMR) since 2013, according to the recently released Sample Registration System (SRS) 2016.
As per the report, the MMR has declined from 167 in 2011-2013 to 130 in 2014-2016.
There were nearly 12,000 fewer maternal deaths in 2016 as compared to 2013, with total number of maternal deaths for the first time reducing to 32,000. This means that every day 30 more pregnant women are now being saved in India as compared to 2013.
MMR is defined as the proportion of maternal deaths per 1,00,000 live births.
'Queen' pineapple variety declared Tripura's state fruit
President Ram Nath Kovind has announced to recognise the "Queen" a variety of Pineapple as Tripura's state fruit.
Besides, Prez also inaugurated a 73 km. long National Highway from Matabari (Udaipur) to Sabroom along the Gomati and South Tripura districts.
---
---
INTERNATIONAL NEWS
Saudi Arabia, UAE launch 44 joint projects
Saudi Arabia and the United Arab Emirates (UAE) has announced a new alliance of joint economic, development and military strategy through 44 projects to further push strong ties between the two countries.
The two countries named the new cooperation "Ala'Azm", which means determination.
The strategy focuses on three aspects: economy, human and knowledge, and politics, security and military.
---
---
BANKING & FINANCE
Urban Co-op Banks Get Nod to become SFBs
The Reserve Bank of India (RBI) has announced to allow voluntary transition of Urban Cooperative Banks (UCBs) into Small Finance Banks (SFBs) given that they meet the prescribed criteria.
The decision to allow the transition has been made on the basis of a report submitted by the high-powered committee on urban cooperative banks headed by the then RBI deputy governor R. Gandhi.
As per the report, UCBs with capital funds in the range of ₹ 100 crore to ₹ 500 crore may be granted facilities akin to Small Finance Banks in the private sector.
It had further stated that a business size of Rs 20,000 crore could be considered the threshold limit, beyond which UCBs may convert themselves into commercial banks.
According to RBI data, some of the biggest UCBs in the country include Saraswat Co-operative Bank Ltd, Cosmos Co-operative Urban Bank Ltd and Shamrao Vithal Co-operative Bank Ltd. At present, there are ten SFBs operating in India.
FDI Into India Decreased To $40 Billion In 2017: UN Report
Foreign Direct Investment to India decreased to $40 billion in 2017 from $44 billion in 2016 according to a new trade report by the UN.
According to the World Investment Report 2018 by the UN Conference on Trade and Development (UNCTAD), the global foreign direct investment flows fell by 23 percent in 2017, to $1.43 trillion from $1.87 trillion in 2016.
However, outflows from India, the main source of FDI in South Asia, more than doubled to $11 billion.
RBI raises home loan limits under priority sector lending
In a boost to affordable housing under the Pradhan Mantri Awas Yojana (PMAY), the Reserve Bank of India has raised the housing loan limits under priority sector lending (PSL) for economically weaker sections and lower income groups.
According to RBI, the metropolitan centres (with population of 10 lakh and above) will now qualify for home loans up to Rs 35 lakh for the benefits of priority sector lending, as against up to Rs 28 lakh earlier.
Similarly, loans up to Rs 25 lakh will now qualify under PSL for other centres, compared with Rs 20 lakh earlier.
The overall cost of the dwelling unit in the metropolitan centre (with population of ten lakh and above) and at other centres should not exceed Rs 45 lakh and Rs 30 lakh, respectively.
RBI to set up Public Credit Registry to make credit market more efficient
The Reserve Bank of India (RBI) has decided to set up a Public Credit Registry (PCR), containing information on all borrowers to ensure financial stability and check loan default.
The PCR will be introduced in a modular and phased manner. An Implementation Task Force is being constituted by RBI to help design and undertake logistics for the next steps in setting up of the PCR.
This move follows recommendations by a high-level task force on PCR for India headed by Yeshwant M Deosthalee.
PCR will serve as a single of mandatory reporting of all credit contracts, duly verified by reporting institutions, for all lending in India and any lending by an Indian institution to a company incorporated in India.
EFC approves revised cost estimate of DRIP at Rs. 3466 crore till June, 2020 
The Expenditure Finance Committee (EFC) under the Chairpersonship of Secretary, Department of Expenditure has approved the proposal of Ministry of Water Resources, River Development and Ganga Rejuvenation for revised cost estimate of World Bank funded Dam Rehabilitation & Improvement Project (DRIP).
The EFC approved revised cost estimate of DRIP for Rs. 3466 Crore and extended time period for conclusion of this project till June, 2020.
DRIP is a state sector scheme to improve safety and operational performance of selected dams.The total original cost of DRIP was Rs. 2100 Crore with State component of Rs. 1968 Crore and Central Component of Rs. 132 Crore.
The Scheme commenced in April 2012 and was originally scheduled for six years with closure in June 2018.
---
---
APPOINTMENT
Keshari Nath Tripathi to hold additional charge as Tripura Governor
President Ram Nath Kovind has given West Bengal Governor Keshari Nath Tripathi additional charge of Tripura Governor, during the absence of Tathagata Roy who is on leave.
---
---
AWARD
Veteran film actor Anupam Kher to be given Lifetime Achievement honour at IlFA 
Veteran film actor Anupam Kher will be given the prestigious Lifetime Achievement honour at the upcoming International Indian Film Academy awards ceremony in Bangkok.
He will be presented with the honour on June 24 at the 19th edition of IIFA.
The 63-year-old actor, has worked in over 500 films spanning across languages along with projects both in India and abroad for over three decades.
Kohli set to receive Polly Umrigar award
Team India captain Virat Kohli will be presented with the prestigious Polly Umrigar Award for the Best International Cricketer (2016-17 and 2017-18) at the BCCI Awards to be held in Bengaluru on June 12th, 2018.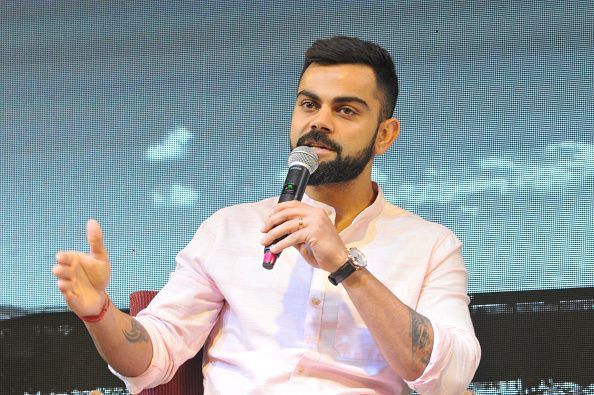 In the women's category, Harmanpreet Kaur and Smriti Mandhana are set to be maiden recipients of the award for Best International Cricketer for the 2016-17 and 2017-18 seasons respectively.
To honor one of its finest administrators, the BCCI has rechristened four awards in remembrance of Late Jagmohan Dalmiya. The Jagmohan Dalmiya Trophy will be presented to the leading run-scorer and wicket-taker respectively in the U-16 Vijay Merchant Trophy and to the Best Junior and Senior Cricketer in women's cricket.
The BCCI has also raised prize money for nine categories by Rs. 1 lakh and the revised prize money is Rs. 1.5 lakh.
The Cricket Association of Bengal has been adjudged the best State Association owing to their consistent performances in the BCCI domestic tournaments for the 2016-17 season while the Delhi and District Cricket Association gets the prize for the 2017-18 season.
---
---
SPORTS NEWS
Mithali becomes first Indian to score 2000 T20I runs
Star batswoman Mithali Raj became the first Indian cricketer to amass 2000 runs in Twenty20 Internationals (T20I). The Indian veteran has also become the first Indian cricketer (Men and Woman's) to complete this record.
The 35-year-old right-hander from Jodhpur achieved the landmark after scoring a single off Oshadi Ranasinghe en route to her knock of 23 during India's seven-wicket win over Sri Lanka in the Women's Asia Cup T20 in Kuala Lumpur.
She now has 2,015 runs in 75 matches.
---
---
Click here to read Current Affairs in English